Parsons leads Griffins' all-conference contingent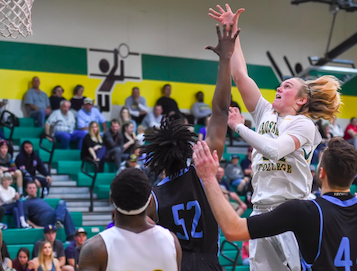 Grossmont College's Bryce Parsons, out of West Hills High, was named first-team All-PCAC South.
2016-17 GROSSMONT COLLEGE MEN'S BASKETBALL
By Bill Dickens
© EastCountySports.com
EL CAJON (2-19-17) — Five Grossmont College Griffins have been named to the All-Pacific Coast Athletic Conference South men's basketball team, as the Griffins finished 2nd in the PCAC South race with a 15-12 record and a 6-2 conference slate.
Freshman BRYCE PARSONS (West Hills) earned first team honors.
Second team honors went to freshman RONALD BLAIN out of Union Grove (Ga.) High School , and DAN McCOWN, a sophomore out of Palm Desert, also landed a second team berth.
Other post-season honors went to sophomore D'AUBRE DOUCETTE, from Temecula Valley, earned Honorable Mention, as did sophomore LeANDRE POWELL, out of Eastlake.
McCown scored 30 points in Grossmont's 91-81 victory over Southwestern College in the season finale, while Parsons poured home 21 points, Doucette had 15 and Powell had 12.
The Griffins will now await a playoff berth.