ROUNDUP: Pats, Hillers, Matadors, Vaqueros movin' on
Updated: February 22, 2017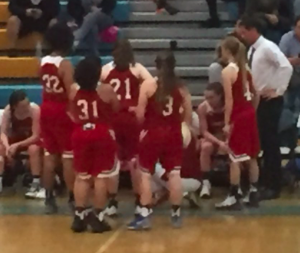 The Christian Patriots during a time out on Tuesday evening.
2016-17 EAST COUNTY PREP GIRLS BASKETBALL
SDCIF Playoffs
By Bill Dickens
© East County Sports.com
SAN YSIDRO (2-22-17) — Christian High coach TIFFANY GILES knows how to be a winner.
"This was our first CIF win in over a decade," exclaimed Giles. "It's really exciting! The No. 5 seed upset the No. 12 seed. It was neck and neck all the way.
"The year I graduated, in 1992, Christian won league, CIF, SoCal Regionals and State. I was on that team. Then in 1995 Christian also won state, led by STEPHANIE SHADWELL."
While it may feel like 10 years since the Patriots last won in the postseason, it should be noted that Christian did win a first-round playoff contest back in 2014 when it destroyed Health Sciences, 75-19. Christian also earned first-round victories in 2012 and 2011.
Christian won its Division IV playoff opener by upending San Ysidro 48-43 on Tuesday (Feb. 21) in the first round of the CIF playoffs.
It wasn't MARISSA GILES' best game of the season but she did toil a double-double of 11 points and 10 rebounds for the 14-6 Patriots. She hit 3 threes, which helped spark the Patriots past the Cougars.
Giles nailed one of her threes as the final buzzer sounded, securing the five-point win. Another of Giles' triples came in the second quarter, which helped the Pats regain the advantage at 21-19.
Last second 3 by #13 Marissa Giles to end the game…48-43…CHRISTIAN moves forward in playoffs…GO PATRIOTS!!!! pic.twitter.com/A0sIBCIrom

— CUSSDPatriots (@CUSSDPatriots) February 22, 2017
JASMYN CRAWFORD led Christian with 18 points, 5 rebounds and 6 steals.
Crawford went coast-to-coast for a bucket to close out the first half, sending Christian into the locker room with a 24-21 lead. She then opened the scoring in the third with a 10-foot jumper from just outside the right elbow.
Crawford hit a jumper with four and half minutes to play in the game, upping the Patriots' edge to 43-36.
#11 Crawford with the jump shot to extend the PATRIOT lead…43-36 w/4:29 left in the game!!!! pic.twitter.com/8MwS4Q7J01

— CUSSDPatriots (@CUSSDPatriots) February 22, 2017
Christian led 36-31 at the end of three quarters.
HALEY ROBINSON had a personal-best 9 points to go with 19 rebounds.
The Patriots will host Clairemont at the Ryan Athletic Center in the CIF quarterfinals on Friday (Feb. 24) at 7 p.m. Christian has beaten Clairemont one out of three times.
Christian: Jasmyn Crawford 18 (5 reb, 6 stl), Marissa Giles 11 (10 reb, 2 stl), Hayley Robinson 9 (19 reb, 2 blk, 2 stl), Brooke Owens 8 (1 ast, 1 stl), Cipriana Hudson 2 (7 reb), Suzy Webster (1 ast).
MOUNT MIGUEL 65, GRANITE HILLS 21 – The Matadors mowed down Granite Hills for the second time within a week in the San Diego CIF Division I playoffs on Tuesday (Feb. 21).
The top-seeded Mount Miguel Matadors eliminated Granite Hills 65-21 in the first round of the playoffs.
SATERA BATES led the way with 24 points, including 4 threes.
CAMARA DOUGLAS added 10 points and grabbed 8 rebounds.
NYSSA MAGA hit 3 threes and finished with 11 points and 6 steals.
The Matadors put this game on ice in the middle two quarters as they outscored the Eagles 46-9. Mount Miguel finished the season 3-0 against Granite Hills.
"I thought the game was not what we're used to," said Matadors coach ROBBIE SANDOVAL. "I'm glad we got it out of our system. We didn't play particularly well tonight – looking forward to playing another game on Friday (vs. Torrey Pines in the quarterfinals at Mount Miguel, 7 p.m.)"
Mount Miguel: Satera Bates 24 (3 reb, 2 ast, 4 stl), Nyssa Maga 11 (2 reb, 2 ast, 6 stl), Camara Douglas 10 (8 reb, 1 stl), Laila Smith 9 (7 reb, 10 ast, 7 stl), Michelle Corley 7 (4 reb, 6 stl), Deyonna McBride 4 (1 reb, 10 stl), Tiaja Bennett (2 reb, 3 stl), Nya Maga (2 reb, 1 stl).
Granite Hills: Chase Robles 8, Shanice Lacy 7, Anyang Agoth 3, Kani Kubari 2, Moon 1.
GROSSMONT 62, STEELE CANYON 37 – ATHENA SOTELO dumped in 23 points for the defending Grossmont Valley League champion Grossmont Foothillers, who eliminated Steele Canyon in the first round of the Division III CIF playoffs.
TYANA WARSAW pulled a double-double of 13 points and 10 rebounds to go with 2 steals as Grossmont ran away and hid from Steele Canyon.
TAISHA SILAS chipped in 10 points, grabbed 8 rebounds and dished 5 assists.
CANDACE HENDERSON added 10 points, and EMILY BARNES hauled down 9 rebounds.
Next up for Grossmont is a quarterfinal contest with Santana in the Foothillers' gym on Friday (Feb. 24) at 7 p.m.
Grossmont: Athena Sotelo 23 (6 reb, 6 ast, 4 stl), Tyana Warsaw 13 (10 reb, 2 stl), Taisha Silas 10 (8 reb, 5 ast), Candace Henderson 10 (3 ast, 2 stl), Emily Barnes 4 (9 reb, 4 blk), Nailah McDuffie 2.
Steele Canyon: No report.
WEST HILLS 54, VISTA 36 – JESSICA FONDAS-RYAN scored 13 points for the Wolf Pack and hit 3 threes in Tuesday's (Feb. 21) first round of the San Diego CIF Division I playoffs.
KERRIE DANIELS added 10 points for the Pack.
"We got off to a very slow start, had too many turnovers and missed a bunch of lay-ups," said Wolf Pack coach RYAN KINSER. "We played better defense in the 3rd and were able to pull away. We were up 10 and JESSICA FONDAS-RYAN made 3 threes in a row to put the game out of reach. We missed a lot of easy shots and gave up too many rebounds.
"We will have to play much better than this if we want to advance deep in the playoffs."
West Hills will host Cathedral Catholic in the quarterfinals on Friday (Feb. 24) at 7 p.m.
West Hills: Jessica Fondas-Ryan 13, Kerrie Daniels 10, Maya Clemons 9, Carly Raley 9, Vivian Panela 7, Caitlyn Stayner 6.
EL CAPITAN 51, SWEETWATER 33 – El Capitan put the game away in the fourth quarter, outscoring the Red Devils 14-4 in Tuesday's (Feb. 21) San Diego CIF Division III first round to put the game away.
MARIE COOK scored a game high 36 points, hit 3 threes and went 5 for 6 at free throw line.
JORDAN GRANDY added 11 points and canned 3 threes as well.
"My hat is off to Sweetwater, they really came to play tonight," said Vaqueros coach DARIN CURTIS. "They got up 10-0 to start the game and carried that lead deep into the 2nd quarter. We were struggling to find their shooter until we inserted MELISSA (REYES) into the game. She locked in on their scorer (junior guard Hanna Mesfin) and with the help of McKENZI (KYGAR), they took turns holding her scoreless the rest of the way.
"DEVON (BULLOCK) did a good job of settling us down and running our offense. She had 10 assists and got the ball to JORDAN (GRANDY) and MARIE (COOK) where they could score.
"Marie led the way on the offensive end with her best scoring night of her career and GRACE(BURKETT) did a good job of boxing out in the middle.
"We will have to stay focused and run our stuff if we want to advance deep in the playoffs."
San Pasqual will face El Capitan in Lakeside on Friday (Feb. 24) in the CIF quarterfinals. All three of the next El Capitan CIF games will be played at home.
El Capitan: Marie Cook 36 (6 reb, 6 ast, 2 blk, 2 stl), Jordan Grandy 11 (4 reb, 2 ast, 1 blk, 2 stl), Grace Burkett 4 (7 reb, 2 ast, 1 blk, 2 stl), McKenzi Kygar (3 reb, 1 ast, 2 stl), Melissa Reyes (1 reb).
MATER DEI CATHOLIC 47, HELIX 30 – Mater Dei Catholic pounded the Helix Highlanders on the boards and got few second chance shots in the Division I San Diego CIF first round playoffs Tuesday (Feb. 21) in South Bay.
The only stalwart on the glass for the Highlanders was DANIELLE SIMMONS who yanked down 18 boards.
CAMRYN OWENS attempted to pick up the slack with 14 points, including 2 treys and 4 for 4 free throw shooting.
JANAE WHITE added 4 points and 4 caroms off the glass in the losing effort.
Helix was eliminated from the playoffs with the loss.
Helix: Camryn Owens 14 (2 reb, 2 stl), Danielle Simmons 3 (18 reb, 1 ast, 1 blk, 1 stl), Janae White 4 (4 reb), Olivia Missouria 5 (1 reb, 1 ast, 1 stl), Marina Smith 2 (1 ast, 1 blk), Tokwaji Kwai (1 ast), Emily Elias (1 reb), Charity McWashington (1 ast, 1 stl), Diamond Whitley (1 reb, 1 ast), Mariyah Howard (1 reb).
TRI-CITY CHRISTIAN 57, EL CAJON VALLEY 22 – Tri-City Christian overpowered El Cajon Valley on Tuesday (Feb. 21) in the San Diego CIF Division IV playoffs, eliminating the Braves from the playoffs.
LEANNA WATSON was the high scorer for the Braves with 12 points, 6 rebounds, 7 steals and 2 assists. She has scored a season-high 627 points for the Braves.
LILLIAN AKINTENDE grabbed 8 rebounds for the Braves.
"This was the worst game we have played all year," said a disappointed CARLOS MOSS. "I'm very frustrated."
El Cajon Valley: Leanna Watson 12 (6 reb, 2 ast, 7 stl), Dania Ella 6 (2 reb), Sumaya Hameed 4 (6 reb, 3 stl), Lillian Akintende (8 reb, 1 stl), Vean Gorgees (2 reb, 1 ast), Keariel Brewer (1 ast, 1 stl).