Former Cougar Wood-Anderson now top TE prospect
Updated: February 24, 2017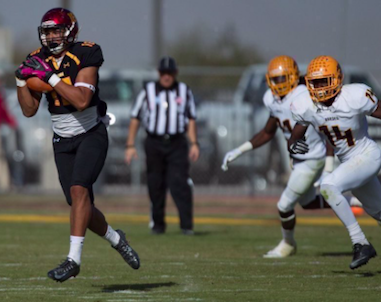 Dominick Wood-Anderson makes a reception for Arizona Western last season.
2017 4-YEAR COLLEGE FOOTBALL STANDOUTS
By Bill Dickens
© East County Sports.com
EL CAJON (2-24-17) — Former Steele Canyon student-athlete DOMINICK WOOD-ANDERSON, a 6-foot-5, 250-pound tight end, can name his future in the collegiate ranks after next season.
The list is more than just lengthy, as 11 teams have made offers Wood-Anderson's way just since last October. And he won't even be available to them until the 2018 season.
The roll of interested parties include Alabama, Texas Christian, Tennessee, Auburn, Louisville, Ole Miss, Oregon, Iowa State, Arizona State, Utah and Central Florida.
Wood-Anderson was a versatile multi-purpose player with the Cougars before he transferred to Mater Dei Catholic for his senior year of high school.
Now, the athlete who was the starting quarterback at Steele Canyon in 2015, completed his freshman season at Arizona Western, a junior college in Yuma, Ariz.
The Matadors, who were ranked No. 1 in the nation for two weeks early in the season, lost the NJCAA National Championship game at the El Toro Bowl in December.
Wood-Anderson caught 14 passes for 208 yards and two touchdowns for Arizona Western during his freshman campaign.
He is one of the fastest-rising prospects in the nation.
See his freshman hudl reel here: