ROUNDUP: Panela, Raley take their Pack into semifinals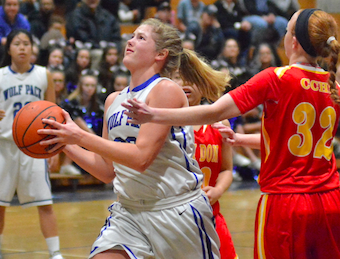 CARLY RALEY drives the lane for West Hills against Cathedral Catholic in the San Diego CIF Division 1 playoffs Friday night. / photo by Ramon Scott
2016-17 EAST COUNTY PREP GIRLS BASKETBALL
SDCIF Playoffs – Quarterfinals
By Bill Dickens
© East County Sports.com
SANTEE (2-25-17) — The West Hills Wolf Pack refuses to be denied, having won two straight San Diego CIF Division I playoff games, the most recent was the quarterfinals on Friday (Feb. 24) in Santee.
The Pack sacked Cathedral Catholic, taking an 11-7 lead after one and holding the advantage at the finish, as they eliminated the Dons 34-29.
"We played great defense but very poor offense," said Wolf Pack coach RYAN KINSER. "We missed a ton of good jumpers and lay-ups. Panela scored well and took care of the ball."
Cathedral Catholic held the lead twice in the game, including a 25-23 edge at the end of three quarters.
"We will have to play much better offensively if we want to beat Mater Dei in the semifinals," Kinser said.
Panela and CARLY RALEY got the Wolf Pack off to a good start, scoring the hosts into a 9-2 lead.
MAYA CLEMONS added a deep two for an 11-4 West Hills lead.
After the Dons' scored back to within a point early in the second, Raley had a dribble drive in the lane to give West Hills a 13-10 lead with 5:50 left in the second quarter.
The Wolf Pack led 15-11 midway through the second quarter.
Raley battled foul trouble, which allowed the Dons a little more free reign in the inside.
However, Panela, who has proven her value time and again as not only a facilitator, but as a scorer when needed, had a three-pointer in the fourth and fed KERRIE DANIELS for another basket late in the contest.
Panela scored again for a six-point edge, but the Dons scored a late basket in the lane to pull within 31-29 with just 1:47 left in the game.
However, Panela and Raley touched a couple of quick passes over to JESSICA FONDAS-RYAN, who hit a key field goal in the waning moments with 1:30 left to seal the momentum and the win.
West Hills:  Vivian Panela 16, Carly Raley 7, Kerrie Daniels 4, Maya Clemons 4, Jessica Fondas-Ryan 3.
CLAIREMONT 44, CHRISTIAN 34 – It was a night of frustration for the Christian High Patriots at Friday's (Feb. 24) San Diego CIF Division IV quarterfinals.
The Patriots came up short and were eliminated.
"We played well defensively but we just couldn't put the ball in the hole," said Patriots coach TIFFANY GILES. "Both teams played well defensively, it was a pretty low scoring game. We got plenty of shots off.
"Haley Robinson did her job on the boards again with 18 tonight and 19 on Tuesday (against San Ysidro)."
CIPRIANA HUDSON had 5 blocks for Christian.
The Patriots trailed 4-1 with 2:39 remaining in the first quarter, but worked their way back with some baskets to close to within 8-7 just a minute and a half into the second when Hudson scored on a pass from BROOKE OWENS.
#30 Cipriana Hudson with the layup after the assist from #4 Brooke Owens to bing the PATRIOTS closer…7-8 w/6:38 left in 2nd Period. pic.twitter.com/v11AUUJFlK

— CUSSDPatriots (@CUSSDPatriots) February 25, 2017
Owens, hit her own field goal, drawing a foul, later in the quarter, as Christian trailed 19-16 near the end of the first half.
Owens, playing in what turned out to be her final prep game, had a will not to let her high school basketball career come to an end.
#4 Brooke Owens with the And 1 to end the 1st half…16-19…PATRIOTS still in the fight!!! pic.twitter.com/GYvoxDqrwu

— CUSSDPatriots (@CUSSDPatriots) February 25, 2017
Christian trailed, 31-21, at the end of three quarters, but shortened the deficit to 36-29 midway through the fourth on a free throw by Giles.
Coach Giles noted her pride, not only in her team's turnaround season (finishing 14-8), but also their all-around successes of the court, as well.
"(Senior) SUZY WEBSTER, whose main interest is music, not basketball, has been offered a full ride to Baylor University in academics and music," Giles said of her departing role player.
"She plays the organ, and has been playing at the Organ Pavilion in Balboa Park for a couple of years. Suzy is such a hard-working person, she's a joy to be around."
Christian:  Marissa Giles 16 (3 reb, 1 blk, 4 stl), Cipriana Hudson 6 (5 reb, 5 blk), Hayley Robinson 5 (18 reb, 1 stl), Jasmyn Crawford 2 (4 stl), Suzy Webster (1 stl).
TORREY PINES 58, MOUNT MIGUEL 50 – In her final game as the team's lone senior, SATERA BATES drilled in 5 triples to finish with a team-best 24 points, while CAMARA DOUGLAS spun a double-double of 17 points and 15 rebounds in Friday's (Feb. 24) San Diego CIF Division I quarterfinals.
The Matadors frustrated head coach ROBBIE SANDOVAL with 19 missed layups, including 14 in the first half.
On the flip side, the Matadors created 18 steals, led by LAILA SMITH, who swiped 6 enemy passes.
"Their players listened to their coach and our kids did not respond," said Sandoval.
Mount Miguel crept to within 52-46 with just over two minutes remaining.
For Mount Miguel, it was only the second time in Sandoval's career that his team lost in the quarterfinals. They finished 19-11 overall.
Mount Miguel:  Satera Bates 24 (6 reb, 3 stl), Camara Douglas 17 (15 reb, 2 ast, 1 blk), Laila Smith 9 (2 reb, 5 ast, 1 blk, 6 stl), Tiaja Bennett (8 reb, 1 ast, 1 blk, 3 stl), Michelle Corley (3 reb, 1 ast, 3 stl), Nyssa Maga (2 stl), Deyonna McBride (1 stl).
SAN PASQUAL 33, EL CAPITAN 28 – The Vaqueros offense fizzled in the San Diego CIF Division III quarterfinals Friday (Feb. 24) in Lakeside.

San Pasqual took a 14-11 lead by halftime and led 23-20 after the third quarter.
"(San Pasqual) is a scrappy little team that can shoot," observed Vaqueros coach DARIN CURTIS. "Our defense held them to 33 points but we couldn't make a basket. At the end of quarter one we trailed 2-1 and it never got any better.
"We played well, just could not make a basket. We didn't make a single 3-pointer.
"San Pasqual scared me more because they can do what we can't."
Despite the loss, the season was a monumental turnaround for the Lakesiders, led by senior MARIE COOK and freshman STEPHANIE ADAMS.
Also participating in their last high school contest were seniors GRACE BURKETT and MELISSA REYES.
"Last year we were 6-25, this year we finished 25-6," Curtis said.
El Capitan:  No scoring report.