Sultans make awaited return to finals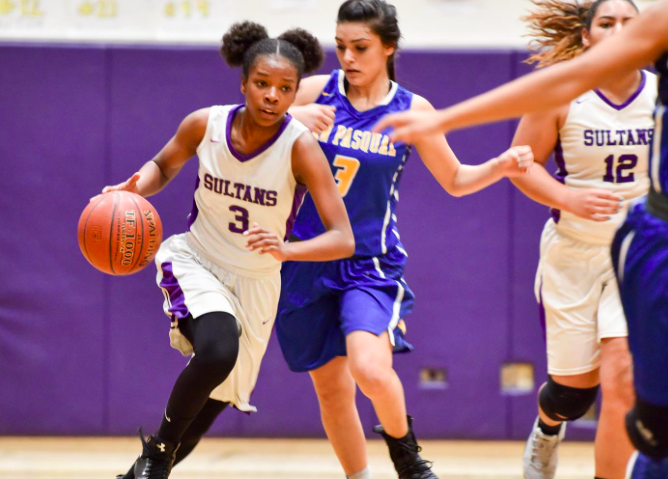 Santana's JANICE DEGUERO comes up the floor against San Pasqual. / photo by TRyan Photography
2016-17 EAST COUNTY PREP GIRLS BASKETBALL
SAN DIEGO CIF DIVISION 3 SEMIFINALS
SANTANA 61, SAN PASQUAL 50
SANTEE – The Santana Sultans, winners of eight San Diego CIF section titles, will return to the championship game after rallying in the second half against visiting San Pasqual, 61-50, in the Division 3 semifinals Tuesday night.
The Sultans (18-11) were led by the core stars JANICE DEGUERIO, SIERRA SIMANEK, KOBIE HOLLAND, ZOE SHIBLEY and TIKA TAYLOR, as they were able to overcome a 29-26 halftime deficit
Shibley hit a three-pointer with three minutes remaining in the first quarter for a 10-8 Santana lead.
Late in the first quarter, Deguerio fired an entry pass in the lane to Holland, who hit a turnaround jump shot for a 14-11 Santana lead.
After the Golden Eagles forged their way back into the lead again midway through the second quarter, some nifty passing ended up in a jumped from the top of the key for Simanek, giving Santana a 20-19 edge.
Santana kept its composure and ended up looking very sharp in the second half to overcome the deficit and pull away for a convincing victory.
Santana will face top-seeded Lincoln (26-4) in the division championship on Friday at noon at Jenny Craig Pavilion.
The Hornets, led by TARAZJANAE COOKSEY's 16 points, defeated Francis Parker, 65-38 in the other semifinal.