Gates drives in five in Knights' opener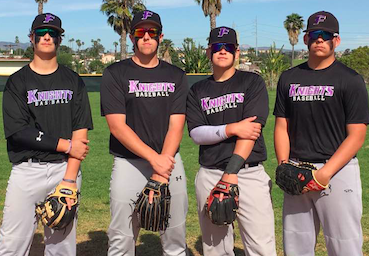 Members of the Foothills Christian Knights.
2017 EAST COUNTY PREP BASEBALL
By Bill Dickens
© EastCountySports.com
CHULA VISTA (3-4-17) — Foothills Christian opened the season with a full swing, toppling the Trojans of Castle Park 10-2 in a non-league game on Friday (Mar. 3) in South Bay.
JOSH GATES supplied the muscle for the Knights, driving in 5 runs, including a bases-loaded triple in the 6thinning.
TREVOR SMALLWOOD cashed in two more runs when Castle Park misplayed a ground ball to hoist the score to 5-0 for the Knights.
JUSTIN EICHER (1-0) pitched four innings, allowing only 3 hits, one run, one walk and 5 strikeouts to earn the win.
BAILEY LEWIS hit a sacrifice fly in the 6th inning to score Gates.
Next up for the Knights is a contest with Maranatha Christian at Barona on Tuesday (Mar. 7) at 3 p.m.

Non-League
KNIGHTS 10, TROJANS 2
Foothills Christian (1-0) 302 004 1 – 10 13 0
Castle Park (1-1)         000 100 1 -  2  5 1
Eicher and Wurts. Castle Park batteries N/A. 
WP-Eicher (1-0). LP-N/A.