Highlanders are Top Dawgs in tight finish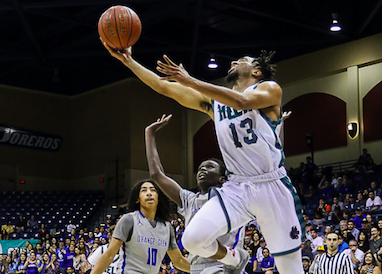 Helix's DYLAN LEE drives to the basket Saturday against Orange Glen in the CIF Division 2 championship game. / photo by Don De Mars
2016-17 EAST COUNTY PREP BOYS BASKETBALL
SDCIF DIVISION 2 – FINALS 
HELIX 48, ORANGE GLEN 44
By Bill Dickens
© East County Sports.com
SAN DIEGO (3-5-17) — Entering the final quarter of the San Diego Section CIF playoffs, the Helix Highlanders suddenly found themselves up against upset-minded Orange Glen in the Division II final round Saturday (Mar. 4) at USD's Jenny Craig Pavilion.
The Highlanders, which at one time led by as much as 15 points, found themselves with a 23-13 advantage at halftime.
Helix stormed to extend the lead in the third quarter 36-27 to hold Orange Glen at bay.
Orange Glen fought back to cut the Highlanders' lead to 43-35 in the fourth quarter.
But as Helix coach JOHN SINGER's crew found itself scrambling for his fourth San Diego CIF championship, the Patriots refused to fold.
Somebody didn't send the memo to Helix's DYLAN LEE, who was shut out in the first half but caught fire in the second as Helix pulled out a 48-44 victory to claim the Division II championship.
Lee nailed three consecutive triples to go along with a pair of deuces and four free throws, giving Helix 17 points in a second-half rush.
Nonetheless, that was almost not enough as Orange Glen fought back to trail 45-41 with 1:12 to play.
The key play in that series was an intended dunk shot that misfired by the Highlanders' MILES NORRIS, who hung on the rim and was called for a technical foul.
That gave Orange Glen another chance.
At that point, Helix was left with a 45-44 lead with less than a second to play.
Norris finished the game off with a game-sealing block of a last-ditch shot by the Patriots.
"There was no time left so I had to make the big play," said the 6-foot-9 Norris.
Helix ran its winning streak to 18 in a row and locked up coach John Singer's fourth CIF championships.
"I don't care what the score is, I always give it my all," said the Highlanders' JAYLEN ARNOLD, who received the team's CIF championship sportsmanship award.
"As a senior, it's special to win a championship like this. A lot of people tried to double on us but they were unable to do that because we have too many pieces to our puzzle."
SAN DIEGO CIF DIVISION 2 CHAMPIONSHIP GAME
at JENNY CRAIG PAVILION
Helix:       (26-5)    4   19   13  12 – 48
Orange Glen: (21-9)    8    5   14  17 – 44
Helix:  Jaylen Arnold 17 (4 reb, 4 stl), Dylan Lee 17 (3 reb, 1 blk), Miles Norris 12 (14 reb, 3 ast, 5 blk), Amari Green 4 (8 reb, 3 ast, 4 stl), Carson Baker 1 (5 reb, 4 ast, 1 blk, 2 stl).
Orange Glen:  Caedon Palmer 14 (2 reb, 1 ast), Nikola Kresovich 12 (6 reb, 2 stl), Damian Miller 10 (4 reb, 1 ast, 3 stl), Michael Diaz 6 (5 reb, 4 ast, 7 stl), Devin Diaz 2 (6 reb, 1 blk, 2 stl), Doup Chuol (5 reb, 1 ast).
NEXT: Helix will learn of its state playoff status on Sunday, where it is possible the Highlanders could receive a home game to open the tournament.
The opening game is expected to be played on Wednesday against an opponent to be announced.
A little celebration with #the pound pic.twitter.com/W7g3ZQ5XM6

— Helix Athletics (@HelixScotties) March 4, 2017
Champions‼️✊🏽💍

— Miles Norris (@milesbnorris15) March 4, 2017