Matadors run into Bobcats' bite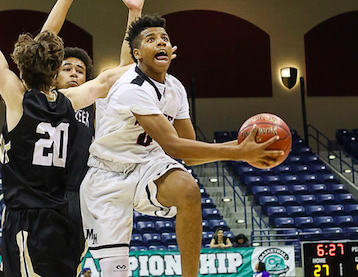 MOUNT MIGUEL'S RICKEY HARVEY GOES UP WITH A SHOT IN THE CIF D3 CHAMPIONSHIP GAME. / photo by Don De Mars
2016-17 EAST COUNTY PREP BOYS BASKETBALL
SDCIF DIVISION III – FINALS 
SAGE CREEK 58, MOUNT MIGUEL 42
By Bill Dickens
© East County Sports.com
SAN DIEGO (3-5-17) — If ever there were a basketball team that could be labeled an upset monger, Mount Miguel would have to be considered.
The Matadors shocked the playoff community in the post-season play by defeating University City in round one; beat Coronado in the San Diego Section CIF quarterfinals; and dunked Point Loma in the semifinals.
Only when they came up against Sage Creek in the CIF finals on Saturday (Mar. 4) did the Matadors stumble. They made a game of it, but they did not prevail.
Sage Creek emerged triumphant 58-42 in the Division III finals despite a valiant effort by Mount Miguel.
The long-shooting Matadors were online at USD's Jenny Craig Pavilion as they launched the long ball against the Bobcats in Saturday's finals.
Trouble is, so were the Bobcats.
It was a tough loss for the Matadors but they had fought the good fight.
"It doesn't come very often you have chances like this," said senior RICKY HARVEY.
The bottom line for this game is there were 21 missed layups among the Matadors, and the Bobcats had trouble converting the Matadors' miscues.
"We started slow, like we were kinda scared of playing on the big stage," said Mount Miguel coach JAY ROWLETT. "Nobody expected us to get this far, and here we are."
Mount Miguel concluded the season with a 20-11 record.
SAN DIEGO CIF DIVISION III CHAMPIONSHIP
at Jenny Craig Pavilion at USD
Sage Creek    (14-17)  17  14  12  15 – 58
Mount Miguel  (20-11)   8   7  10  17 – 42


Mount Miguel:  Darian Norwood 12 (6 reb, 1 ast, 5 blk, 2 stl), James Allen 10 (3 reb, 2 ast, 2 stl), Ricky Harvey 8 (1 reb), Marquise Edwards 6 (8 reb, 1 blk, 1 stl), Mikeece Dunbar 6 (2 ast, 1 stl), Mugabe Miller (1 stl).
Sage Creek:  Bryce Buscher 16 (8 reb), Xavier Allison 13 (3 reb, 12 ast, 1 stl), Dylan Rossi 10 (4 reb, 4 blk, 1 stl), Nick Sonck 8 (9 reb), Tyler Franchimone 3 (2 reb, 1 stl), Brett Crawford 6, Teiyler Scott 2.