Knights knocked off by Oak Park in OT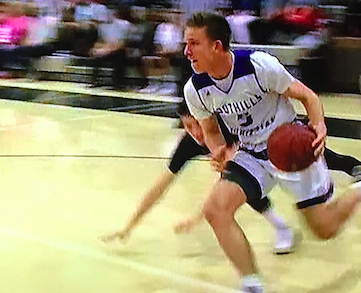 Foothills Christian's JORDAN VAN OMMERING drives the baseline Wednesday night against Oak Park.
2016-17 EAST COUNTY PREP BOYS BASKETBALL
CIF STATE DIVISION 1 REGIONAL PLAYOFFS
OAK PARK 66, FOOTHILLS CHRISTIAN 65 (OT)
By Ramon Scott
EastCountySports.com
RANCHO SAN DIEGO – Oak Park freshman Clark Slajchert made a three-pointer with two seconds remaining in overtime to upset Foothills Christian, 66-65, in the CIF State Division I Southern California Regional playoffs Wednesday night at Cuyamaca College.
Oak Park opened the game on a 9-0 run then withstood the steady gain by the Knights, who managed a comeback from down 10 at halftime.
After the visitors' quick start, KALE BALDADO woke up the home folk with a jam to bring it to within 14-4 with 3 and a half minutes to play in the first.
KALEB LOWERY had a put-back with :12 to play in overtime to give Foothills Christian a 65-63 lead.
Moments earlier, senior All-American JAYLEN HANDS drove then lane, then pumped home a go-ahead basket for a 61-59 lead in overtime for FCHS.
Hands then drove through the whole five of the Oak Park defenders for a short driving hoop that extended the Knights' late OT lead to 63-60.
Oak Park (23-8), champions of the Southern Section Coastal Canyon League, tied the game at 63-all on a three-pointer.
Foothills Christian was led by Hands' 29 points, while JORDAN VAN OMMERING added 13.
"Foothills Christian is a great school," said Hands, who will attend UCLA. "We're thankful for the fans who came out to our games, and hopefully we gave them a show they won't forget."
Oak Park's Riley Battin scored 24 points, including 8 of 10 free throws. The Eagles also got 24 points and 15 rebounds from Slajchert and 12 points from Wes Slajchert.
Oak Park (22-8) advances to the quarterfinals.
Foothills Christian (24-7) trailed 59-57 with 36.5 seconds left in regulation.
Lowery tied the game at 59-all with 30.2 seconds to go with a pair of free throws.
JALEN NAFARETTE, of Foothills, his a three-pointer early in the second quarter that brought the early deficit to 20-12.
DERRICK CARTER-HOLLINGER added eight points for the Knights.
Foothills Christian was guided by assistant coach Thomas Lowery, as Knights' head coach Brad Leaf was serving a one-game suspension for a pair of technical fouls and being ejected in the section semifinal loss at St. Augustine.