Historic Braves reach regional final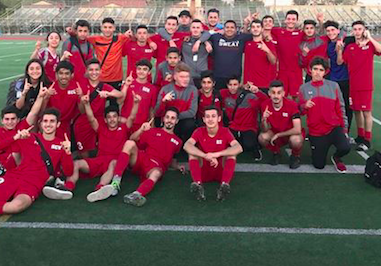 The El Cajon Valley Braves following their CIF State regional semifinal win over Smidt Tech at home on Thursday.
2016-17 EAST COUNTY PREP BOYS SOCCER
CIF STATE DIVISION V REGIONAL SEMIFINAL
EL CAJON VALLEY 4, SMIDT TECH 2
EastCountySports.com staff report
EL CAJON – The El Cajon Valley Braves overcame a rare slow start, spotting visiting Smidt Tech two early goals in their CIF State Division V regional semifinal game, but the calm and cool Braves rallied with a flurry of goals later in the first half to take a 4-2 victory.
The Braves, San Diego CIF Division 5 champions, will play in their first Southern California Regional championship game on Saturday.
Sixth-seeded El Cajon Valley will travel to face No. 5 Santa Clara, of Oxnard for a 4 p.m. kickoff.
After the LA City Section Division 5 champion Grey Wolves led, the Braves got goals from sophomore ANGEL DELGADILLO, junior LIYON KALYANA and senior MATIOS MURAD all before halftime in a wild five-goal opening session.
Kalyana took a great pass from Murad and had a wide-open net just eight yards from the goal, as he finished with a strong tap to tie the game at 2-all.
Murad had what turned out to be the decisive goal on a free kick by junior FARIS AZRYA, who hit a directive right to the center of the box at a front line of Braves.
The ball sailed over Delgadillo, but Murad was right behind him and put a strong re-direction header to the side of the net as the stunned keeper could only watch.
JACK ALEESHA, a junior, added the Braves for goal with six minutes remaining in regulation, as Murad hit a left-footed cross out of the air and back to the center of the field, where Aleesha slid to meet the ball and directed it past the keeper, who had committed to coming after the ball.
Now coach ANTONIO LAVENANT takes El Cajon Valley (21-6-1) back up north to face Santa Clara (18-5-2) at Cal Lutheran in what should be a closely rated matchup.
The Saints won the Southern Section Division VII title after sharing the Frontier championship with Malibu.
Santa Clara is led by sophomore Isaac Carbajal, who has 18 goals this season, and brother Jose Carbajal, a senior with 15 goals. Junior Onofre Pulido has 13 goals on the season.