Power, speed is Griffins' creed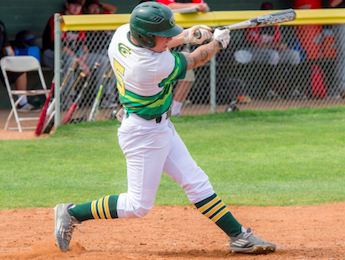 Maldonado
2017 GROSSMONT GRIFFINS BASEBALL
By Ramon Scott
EastCountySports.com
SAN DIEGO – Pacific Coast Athletic Conference Player of the Year candidate DAVID MALDONADO helped the Grossmont Griffins pass their first major hurdle of the conference season in a 15-7 pasting of host San Diego Mesa Tuesday afternoon.
The Griffins rallied from deficits of 3-0 and 7-5 before putting away the Olympians with a six-run seventh.
Maldonado had three hits, scored three runs and hit a two-run home run to cushion the lead in the eighth inning.
The 5-foot-8, 175-pound sophomore pays off at the plate with his avid work in the weight room. Talk about the power and speed combo.
A leadoff batter, Maldonado is second in the PCAC in RBI with 32, second in the conference with five homers and also second in the conference in stolen bases (13). The centerfielder has even thrown in a couple of outfield assists this season.
Grossmont (12-1 PCAC, 17-6-1) handed Mesa (7-3 PCAC, 12-12) a key loss in the Olympians' pursuit of the Griffs and co-frontrunner Palomar (11-1 PCAC).
After Mesa took a 3-0 lead in the bottom of the first, the Griffins put up markers in the next three frames.
However, the hosts would take the lead back in the bottom of the fifth with three more runs.
JUSTIN BURKEY hit an RBI double to left-center, then CABOT VAN TIL drove home two with a single to center to tie the game, 7-7.
NOAH STROHL added a sacrifice fly and Maldonado scored on a passed ball.
Van Til had an RBI in Grossmont's two-run second, while Burkey finished with three hits and two RBI.
Grossmont freshman JALE SIM, from Scripps Ranch High, scored four runs, getting two hits, including a triple, and walking twice.
Griffins reliever HAYDEN SHENEFIELD (2-0) got the win, while JAVIER DE LA TORRE was Grossmont's most effective pitcher, dealing two scoreless frames in the seventh and eighth.
The series concludes Thu.-Fri. with a home-and-home, starting at Grossmont. Both games are at 2 p.m.
Grossmont College vs San Diego Mesa
@ San Diego | Mesa College
3/28/2017 at 2:00pm
| FINAL | 1 | 2 | 3 | 4 | 5 | 6 | 7 | 8 | 9 |  R |  H |  E |
| --- | --- | --- | --- | --- | --- | --- | --- | --- | --- | --- | --- | --- |
| Grossmont (17-6-1, 12-1) | 0 | 2 | 1 | 2 | 0 | 0 | 6 | 3 | 1 |  15 |  16 |  1 |
| San Diego Mesa (12-12, 7-3) | 3 | 0 | 0 | 0 | 3 | 1 | 0 | 0 | 0 |  7 |  7 |  3 |
San Diego Mesa

HITTERS
AB
R
H
RBI
BB
SO
LOB

Andres Velasco

  cf
5
1
1
1
0
1
0

Zack Mann

  ss
5
1
1
2
0
1
0

Kevin Bristow

  3b
4
1
1
1
0
1
1

Grant Ruthenberg

  rf
2
1
0
0
0
0
0
   

Jacob Odenkirk

  rf
1
0
0
0
0
0
0

Will Law

  1b
1
1
1
0
3
0
0

Conner Trippet

  dh
4
0
1
3
0
2
0

Sloan Blanscet

  lf
4
0
0
0
0
2
4

Lewis Butler

  2b
4
1
1
0
0
1
1

Jonathon Soto

  c
3
1
1
0
0
0
0

Nick Marinac

  p
0
0
0
0
0
0
0
   

Erick Lopez

  p
0
0
0
0
0
0
0
   

Sean Robinson

  p
0
0
0
0
0
0
0
   

Ryan Galuz

  p
0
0
0
0
0
0
0
   

Jacob Vermillion

  p
0
0
0
0
0
0
0
   

Mark Lemus

  p
0
0
0
0
0
0
0
Totals
33
7
7
7
3
8
6
BATTING
2B: Andres Velasco; Kevin Bristow; Conner Trippet; Jonathon Soto
3B: Zack Mann
RBI: Andres Velasco; Zack Mann 2; Kevin Bristow; Conner Trippet 3
Sac: Jonathon Soto
Sac fly: Kevin Bristow
BASERUNNING
FIELDING
E: Zack Mann 2; Will Law
DP: Zack Mann; Will Law; Lewis Butler
PITCHERS
IP
H
R
ER
BB
SO
HR

Tim Holdgrafer

5.0
5
6
5
2
6
0

Hayden Shenefield

  (W, 2-0)
1.0
2
1
1
0
2
0

Javier De la Torre

2.0
0
0
0
1
0
0

Jeremiah Barr

1.0
0
0
0
0
0
0
Totals
9.0
7
7
6
3
8
0
PITCHING
Batters Faced: Tim Holdgrafer 25; Hayden Shenefield 5; Javier De la Torre 7; Jeremiah Barr 3
HBP: Tim Holdgrafer 2
San Diego Mesa

PITCHERS
IP
H
R
ER
BB
SO
HR

Nick Marinac

4.1
8
5
3
2
3
0

Erick Lopez

  (L, 0-2)
2.0
3
4
3
2
0
0

Sean Robinson

0.1
1
2
0
1
0
0

Ryan Galuz

0.1
1
2
2
1
0
0

Jacob Vermillion

1.0
2
1
1
0
1
1

Mark Lemus

1.0
1
1
1
1
0
0
Totals
9.0
16
15
10
7
4
1
PITCHING
Batters Faced: Nick Marinac 25; Erick Lopez 10; Sean Robinson 5; Ryan Galuz 3; Jacob Vermillion 5; Mark Lemus 5
HBP: Nick Marinac