Hands scores 14 in All-American Game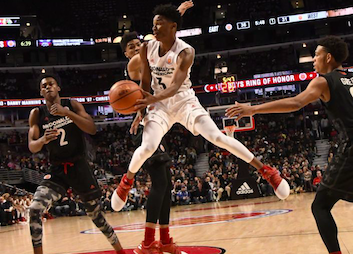 Foothills Christian's JAYLEN HANDS looks to pass Wednesday night in Chicago.
2016-17 EAST COUNTY PREP BASKETBALL
CHICAGO – Foothills Christian's JAYLEN HANDS scored 14 points for the West squad at the McDonald's All-American Game at the United Center on Wednesday.
The West recorded a 109-107 win over the East, as the UCLA-bound Hands was 3 of 7 from the field and 8 of 10 from the foul line. He was the second-highest scorer on the West side.
On Monday evening, Hands finished second in the Powerade Jam Fest slam dunk competition.
With the departure of Lonzo Ball from Westwood, Hands is expected to be the Bruins' primary ball-handler next season.
Ranked No. 26 nationally by Scout.com, he also had three assists and two steals in Wednesday night's game.
Hands confidently attacked the rim and drew several fouls.
He hit the deck hard midway through the second half when he surprised a lazy backcourt pass by the East and quickly got a steal. When he went strong to the rim, he was denied hard by a defender, sending Hands to the floor on his backside.