Easterners show talents abroad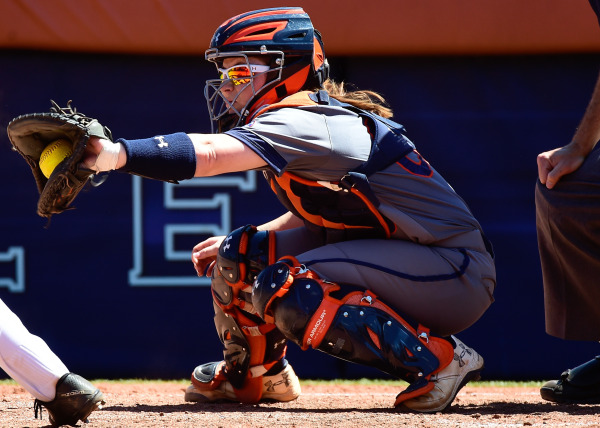 CARLEE WALLACE
2017 FOUR-YEAR COLLEGE SOFTBALL STANDOUTS
By Adam Paul
EastCountySports.com
EL CAJON – This batch of notables have all done well for themselves at the next level and are part of the talent pool that the East County has produced over the last few years.

Carlee Wallace
The junior catcher a former standout at Valhalla High and was a part of the 2014 CIF Division II runner up team is once again tearing it up at the University of Auburn for the Tigers who are currently ranked No. 5 in the latest polls. In her last three games all against the Georgia Bulldogs in SEC conference play and which have all been victories, she has gone 6-13 a .462 clip with 4 runs, 4 RBI a 3B and also a homerun.  On March 31st she went 2-4 and scored a run, April 1st she went 3-5 2R and drove in 4 runs along with a triple and also belted a homerun and on April 2nd she went 2-4 and scored a run. On the season Wallace is hitting .375 with 42 hits, 6 homeruns, 34 RBI, 30 runs, 14 doubles and 3 triples.
Celestia Davila
A former Grossmont Foothiller standout who helped them win a CIF Division I championship back in 2011 is now a junior playing at Montevallo for the Falcons. In game two of a double header on April 8th against Armstrong College, she went 2-3 and scored a run and also stole a base. In the second game the 9th she scored a run against Flagler College. On the season, Davila is hitting .328, 13 RBI, scored 31 runs, stolen 13 bases, 10 doubles, 2 triple and a homerun.
Anna Sherburne
Former Christian High standout who helped them win the CIF Division IV championship last season and also tied the school record for most homeruns in a season is now a freshman at Midland College playing for the Chaparrals or lady Chaps. So far she has helped the Chaparrals to a 27-10 overall record and a No. 5 ranking in the NJCAA. On the season she is hitting .323, 3 homeruns, 20 RBI, 13 runs and 7 doubles.
Lady Sarah Federico
The former Valhalla standout who is a sophomore in the last three games vs Armstrong College and in a doubleheader against Flagler College went 5-10, drove in 3 runs, 2 doubles, stole a base. On the season she is batting .333 with 12 RBI, 2 homeruns, 5 runs, and 5 doubles.
Amber Schisler
The former Santana Sultans standout who was part of their 2013 CIF Division III championship team is now a senior at Campbell College playing for the Camels. In the series over the weekend against Winthrop she went 5-10 including a homerun in the first game of a double header on Saturday, April 8th. She also belted 2 doubles, drove in 4 runs and scored 5 runs. On the season she leads the team in batting at .403, RBIs with 38, also leads in homeruns with 12. Pitching she is second on the teams with 6 victories and also strikeouts with 43.