Vaqueros lasso Red Devils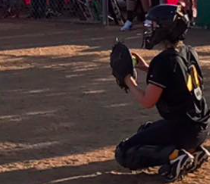 El Capitan catcher ZANNDRA RAGOLE
2017 EAST COUNTY PREP SOFTBALL
By Adam Paul
EastCountySports.com
El Capitan 10, Sweetwater 0 (6 innings) – The Vaqueros made short work of the Red Devils in non-league home action with a big third inning.
El Capitan in the bottom of the second inning broke the scoreless game with a run thanks to a leadoff single by GRACE BURKETT (2-3, 3R, 2 RBI) who would later come into score on a HANNAH DAVIS (2-3, 3 RBI, 2B) groundout to give the Vaqueros a 1-0 lead.
A leadoff walk by MADISYN WIEHER (1-2, R), ZANNDRA RAGOLE (2-3, 2R) put down a good bunt which advanced Wieher to second, KATELYN COLLIER (2-3, R) also bunted which everyone was safe to load the bases, ALEXA WILLIAMS (R, RBI) grounded into a fielders choice which scored Wieher to make it 2-0, Ragole and Collier both advanced, Burkett singled hard up the middle scoring Ragole to push the lead to 3-0, BAILEY OLAVESON (3-4, R, 3 RBI drove in a couple of runs on a single to left to make it 5-0.  The next batter ALLYSON VON YOKES (RBI) was able to drive in another run on her pop out in foul territory as Burkett tagged up from third to make it 6-0, Davis drove in the final run which was Olaveson to make it 7-0.
Leading 7-0, Williams had a pretty comfortable lead and she was able to make sure it stood as she shut down the Red Devils one by one.
El Capitan pushed across another run in the fourth when Burkett hit a fly ball to center which was caught, Ragole who had led off the inning with a single tagged up and was able to score from third to make it 8-0.
Back to back doubles by KIM GARCIA (1-1, R, 2B) and Davis which scored Garcia in the fifth to make it 9-0. That would be all the Vaqueros would get despite loading the bases.
The final run came in the sixth when Burkett led off hitting the ball to center on a line drive and was misplayed by the center fielder, she proceeded to steal second base, Olaveson came up to the plate and on an 0-2 count took the offering and hit a grounder that made it through to right field and around third came Burkett who was able to score to make it 10-0 and end the game.
Williams garnered the win going all 6 innings, giving up 0 runs on 2 hits, walked 2 and fanned 7 on the day.