Sultans win again; Helix keeps pace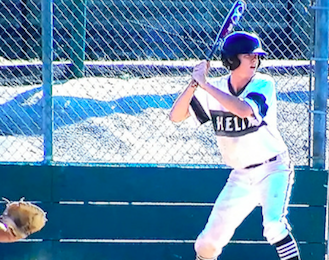 Wes Babbitt at the plate on Friday against Grossmont.
2017 EAST COUNTY PREP BASEBALL
By Bill Dickens
© East County Sports.com
SANTEE (4-22-17) — Santana won its 10th-straight contest on Friday (Apr. 21), keeping a one-game lead over second-place Helix in the Grossmont Hills League.
The Sultans last defeat came back on March 28.
The Sultans (14-6, 4-0 GHL) marched to a steady lead, taking a 3-2 advantage after three innings.  Santana's edge carried over to take a 7-3 spread that they would not relinquish.
COLTON CALVERT combined with TRISTEN SALINAS to finish the job. Calvert pitched 5.2 innings allowing 5 hits, 3 runs, 2 earned, struck out 8 and walked 3 to register a 4-2 record. Salinas completed the effort.
With the bat, Salinas went 1-for-2 with a run and an RBI.
NOAH NUNEZ was 1-for-3 with a run, and TC SIMMONS was 1-for-2 with a run and an RBI. Calvert was 1-for-3 with a run and an RBI.
ANDERS TOLHURST was 1-for-2 with 2 RBI, while EMORY ALLEN-FOX was 1-for-3 with a run scored. BROCK ELLIS finished 1-for-3 with a run and an RBI.
Granite Hills holds a disappointing 9-9, 0-2 GHL record.
SEAN ROSS was 2-for-3 with a run scored, while BRADY JOSLYN was 1-for-3 with a run scored. JAKE FENN was 0-for-3 with an RBI.
HELIX 6, GROSSMONT 3 – Things were looking pretty good for the Helix Highlanders as they rode a second inning walk by WES BABBITT to get on the scoreboard in Friday's (Apr. 21) Grossmont Hills League contest.
The Highlanders improved their record to 13-7 and 3-1 in league play.
In the third inning Helix scored two more runs as JACOB KOVALCHECK singled a line drive to left, bringing ZACK OWENS across the plate. Babbitt doubled to center to score Kovalcheck.
In the fourth inning, HUNTER ISBELL singled on a line drive to left, scoring BRANDON PETERSON.
However, in the fourth, the Foothillers made a run for a comeback, scoring two runs. JACKSON HULETT singled to center. One out later NOAH LEVIN hit a fly ball to right that the right fielder bobbled. JASE RUSSELL reached on a bunt single, moving runners up a base. GIOVANI GIGANTI reached on an error, scoring Hulett.
Helix would score two more in the 6th, and Grossmont would ring up a run in the 7th but that's where it ended.
JORDAN JACKSON earned the win for Helix and KEATON CHASE collected a save.
Five East County teams will be locked up in doubleheaders on Saturday (Apr. 22) beginning at 11 a.m.
Monte Vista will visit Valhalla, Patrick Henry will venture to Grossmont and Mount Miguel will travel to West Hills.
FOOTHILLS CHRISTIAN 7, ROCK ACADEMY 0 (forfeit) – After losing 31-3 a couple of days ago, Rock Academy elected to forfeit this Ocean League game.

ESCONDIDO 1, EL CAPITAN 0 – No further information was provided for this non-league game.
Fri., Apr. 21, 2017
Grossmont Hills League
HIGHLANDERS 6, FOOTHILLERS 3
Grossmont ab r h bi Helix ab r h bi
Ford cf     3 0 1 1 Smelko cf      3 0 0 0
Giovengo 3b 4 0 0 0 Peterson 2b-rf 4 1 2 0
Lombardo c  4 1 2 0 Richardson ss  3 1 1 0
JGarcia 1b  4 0 3 0 Isbell c       3 0 1 1
Williams 3b 0 0 0 0 Owens dh       4 2 3 0
Hulett p    3 1 1 0 Padilla rf     3 0 0 0
Odom rf     4 0 1 0 Zamora 2b      1 0 1 1
Levin 2b    2 1 0 0 Kovalcheck lf  4 1 2 2
Keagy lf    1 0 0 0 Babbitt 1b     3 1 3 1
Russell lf  2 0 1 0 Kretchschmar 3b3 0 1 0
Giganti ss  3 0 1 1 
TOTALS    31 6 14 5 TOTALS       30 3 10 2

Grossmont (7-11, 1-3) 000 200 1 – 3 10 1
Helix (13-7, 3-1)     012 010 2 – 6 14 4

GWRBI-Kretschmar.
E-Levin, Richardson 2, Kretschmar, Padilla.
DP-Gro 1.
LOB-Gro 9.
2B-JGarcia, Owens, Zamora, Babbitt. S-Levin.

PITCHING SUMMARY
Grossmont ip h r er bb so
Hulett L 4.2 11 4 3 1 2
Romero 1.0 0 0 0 0 1
Ennis 0.1 2 0 0 0 0
Helix
Jackson W 5.0 8 2 0 2 5
Chase Sv-5 2.0 2 1 1 0 2
HBP-Romero 2. WP-Hulett.

SULTANS 7, EAGLES 3
Granite Hills ab r h bi Santana ab r h b
Ross cf         3 1 2 0 Salinas cf   2 1 1 1
Hazelhurst p-1b 4 0 0 0 Rasmusson ss 2 0 0 0
Verdon 3b-p     4 0 2 0 Nunez dh     3 1 1 0
Fenn c          3 0 0 1 Simmons rf   2 1 1 1
Joslyn lf       3 1 1 0 Calvert p    3 1 1 1
Harris rf       2 0 0 0 Alesi 1b     2 1 0 0
Bodtke 1b       2 1 0 0 Tolhurst 2b  2 0 1 2
Omahen ss       2 0 1 0 Allen-Fox c  3 1 1 0
Cummings dh     3 0 0 0 Taylor ph    0 0 0 0
McGrew ph       0 0 0 0 Jackson rf   0 0 0 0
                        Ellis lf     3 1 1 1
                        Oedewaldt    0 0 0 0
TOTALS 26 3 6 1         TOTALS      22 7 7 6

Granite Hills (9-9, 0-2) 011 100 0 – 3 6 2
Santana (14-6, 4-0)      120 040 x – 7 7 3 

GWRBI-None.
E-Hazelhurst, McGrew, Oedewaldt, Alesi 2.
DP-GH 1.
LOB-GH 7, Sant 4.
2B-Ross 2, Joslyn, Salinas, Tolhurst, Nunez, Simmons. 
SB-Verdon, Ellis. S-Rasmusson. SF-Fenn. 

PITCHING SUMMARY
Granite Hills ip h r er bb so
Hazelhurst 2.0 3 3 2 3 3 
Verdon L 4.0 4 4 4 0 1 
Santana
Calvert W 5.2 5 3 2 3 8
Salinas 1.1 1 0 0 0 1
HBP-Verdon 3, Calvert. WP-Hazelhurst 2, Calvert. 

Ocean League
KNIGHTS 7, WARRIORS 0 (forfeit)
Rock Academy (0-9-1, 0-2) 0 
Foothills Christian (15-5, 2-0) 7 

Non-League
COUGARS 1, VAQUEROS 0
El Capitan (5-12, 0-2) 0
Escondido (15-3, 3-0) 1 
(No other information reported.)