Miller spins gem to halt Centurions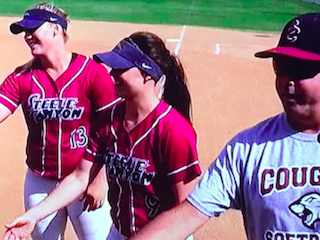 2017 EAST COUNTY PREP SOFTBALL
By Adam Paul
EastCountySports.com
Non-League
Steele Canyon 4, University City 0: Miller and crew shut down the Centurions in a non-league contest between top teams in Division II and Division III.
Steele Canyon would score a run in the bottom of the first inning when MASEN PEARLSTEIN (RUN) walked with one out, a couple batters later she stole second and would come into score on a lined single by JJ VENZOR (2-3, RBI) making it 1-0.
The Centurions had an opportunity to get even in the top of the second inning as they would garner back-to-back singles but SAMANTHA MILLER (1-1) would retire the next two batters via strikeout to end the threat and inning.
Still only leading by the slim margin the Cougars looked to push their lead. Things went their way as leadoff hitter JASMIN ALVARADO (1-3, R) singled to center on a ball that dropped in, MAGGIE CARPENTER (1-2, 2R, 2 RBI, HR) stepped to the plate and on a 1-0 count took the offering and hammered it over the Indian Motorcycle sign in right center field for the 2-run bomb to extend the lead 3-0. The dinger was her first on the season.
University City again threatened to break through in the top of the fourth as they got a lead single, a couple of batters later another single to put runners at first and second. The next batter hit a ball to left that went in for a hit but the runner at second hesitated as she thought it was going to be caught and Venzor quickly threw the ball to third to get the runner out for the second out of the inning and the next batter Miller was able to get out on a ground ball.
A lead walk by Carpenter for the Cougars in the bottom of the fourth started things off, ELIZABETH BOTT laid down a bunt to advance Carpenter to second, she advanced to third on a wild pitch, RACHAEL HAESSLY (1-1) would walk, AUDREY BAGGE would walk to load the bases and a couple batters later MAKAYLA STROMENGER would draw the walk to score Carpenter to make it 4-0.
That would be all the Cougars would need as Miller retired University City in order 1-2-3 in the fifth, sixth and the seventh inning to give the Cougars the victory.
Miller tossed a complete 7 innings for the victory, giving up no runs on five hits while walking none and fanning seven.