Complete game by Hillers downs Highlanders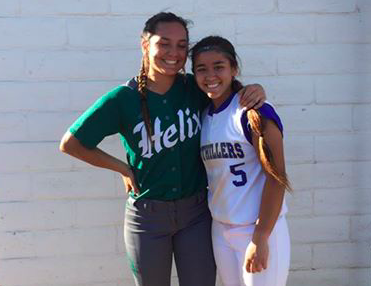 Helix's Flores and Grossmont's Camarero.
2017 EAST COUNTY PREP SOFTBALL
By Adam Paul
EastCountySports.com
Non-League
Grossmont 5, Helix 2: Late rally by the Foothillers allows them to garner the home victory.
The first run of the contest came in the bottom of the second inning when JESSICA BROWN led off for the Hillers by walking, she would come into score when CANDACE HENDERSON knocked her in to make it 1-0.
However the Highlanders would answer in the top of the third as AVERY PEREZ (1-4, R) singled to lead off, EMILY COALE (2-3, 2B, R, SB) followed by ripping a double to put runners at second and third and GABRIELLA OLIVARRIA (1-3, 2 RBI, 3B) smashed a ball to left field that went all the way to the wall for a triple and scored both Perez and Coale to put Helix up 2-1.
It wouldn't be until the bottom of the fifth until the Hillers finally got some offense as CHLOE CAMARERO (3-3, 2B, R)  led off with a single, DESTINY BACON (RUN) singled, MOANA PISA (2-4, R, 2B, SB, RBI) roped a double that scored Camarero to tie the score 2-2, SAMARIA ROOPE (1-1, RBI, R) singled scoring Bacon to retake the lead 3-2, a couple batters later ALEXIS COLLINS (2-3, RBI, 2B) roped a double that scored Pisia to extend it 4-2 and ALY ALLMAN (0-3, RBI) drove in Roope to make it 5-2.
The five runs would be all Grossmont starter CASSIDY DAVILA would need as she was able to retire the Highlanders pretty much in order in both the sixth and seventh innings to complete the victory.
In the complete game victory she went 7 innings, giving up 2 runs on 6 hits, walked 2 and fanned 3.