East teams have rough go on Saturday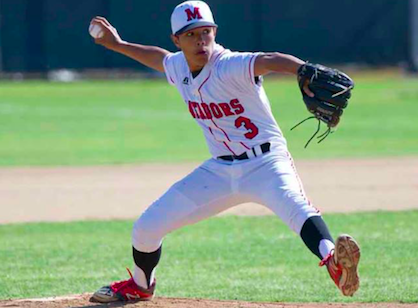 Mount Miguel's NICO CAMACHO.
2017 EAST COUNTY PREP BASEBALL
© EastCountySports.com staff report
RAMONA (4-30-17) — The Grossmont High baseball team traveled up the 67 to face the Ramona Bulldogs and came away with an 11-4 loss Saturday (Apr. 29) afternoon.
The Foothillers dropped to 9-13 with the non-league defeat, while the Bulldogs improved to 14-8.
The Hillers are 2-3 in Grossmont Hills League play and have three games on tap this week, traveling to El Capitan on Tuesday before going to Granite Hills for the first of a home-and-home set on Wednesday. The series concludes on Friday in La Mesa.
MAR VISTA 11, MOUNT MIGUEL 3 – The Mariners racked up five runs in the first before the Matadors scrambled back to within 6-3 after five innings.
Senior CHRIS CONWRIGHT singled, stole a base and drove in a run for Mount Miguel (6-15), while sophomore NICO CAMACHO singled, stole a base and scored.
The defeat was somewhat critical for the Matadors, who figure to mingle near the final playoff spot in Division IV, while Mar Vista (11-11) is likely to battle for a lower-seed, as well.
The Mariners finished it off with three in the sixth and two in the seventh.
Junior ANGELO ZERTUCHE walked, reached on an error, stole a base and scored for the Matadors.
Despite the early offensive outburst by the visitors, junior RUBEN PRECIADO allowed just one earned run in four innings of work as the starter for Mount Miguel, allowing just two hits and striking out four.
The Matadors are in a home-away set this week in Grossmont Valley League play against Monte Vista on Tuesday and Wednesday (May 2-3).
BRAWLEY 11, FOOTHILLS CHRISTIAN 9 – The Knights fell to 15-7 with the loss in the Imperial Valley.