Griffins tabbed No. 2 seed for regionals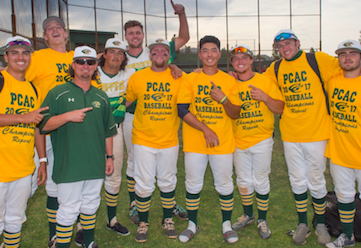 members of the 2017 PCAC champion Grossmont Griffins
2017 GROSSMONT GRIFFINS BASEBALL
From staff report and wire reports
Regional Brackets: Northern California | Southern California
SACRAMENTO (Apr 30, 2017) –  The Grossmont Griffins were seeded second in the South region of the California Community College Athletic Association Baseball Championships, it was announced Sunday.
No. 2 Grossmont (28-7-1) will face the second-lowest remaining seed No. 18 Irvine Valley (19-22), which defeated Chaffey, 11-2 in the three-game first round, May 5-6.
The College of San Mateo and Orange Coast College will assume the top seeds in the North and South regions, respectively, for the upcoming California Community College Athletic Association Baseball Championships, which get underway on Tuesday with 36 teams looking to earn a berth in the state championship tournament in late May in Fresno.
The seeds and opening matchups were announced on Sunday morning.
The eight first-round series in each regional will advance to Super Regional action – which will also be best-of-three – on May 12-14. Survivors advance to the best-of-three Sectional Regional round on May 19-21, with the two remaining teams in each of the North and South qualifying for the state tournament in Fresno on May 27-29.
All action leading up to the four-team state finals will be played on the home sites of the higher seeds.
Santa Rosa entered last year's tournament as the top seed in the NorCal regional and rode that all the way to Fresno where the Bear Cubs beat Golden West to win the state championship. Those two teams were joined in Fresno by San Joaquin Delta and Cypress. All four finalists are in the field this year as well.
Orange Coast picked up the top seed in this year's tournament after winning three of their last four games. They're followed, in order, by Grossmont, College of the Canyons (27-12), Long Beach City (26-13-1) and El Camino (33-7) in the top five.
The College of San Mateo is 20-3 at home this year and has won 14 of its past 15 contests. The four seeds following them, in order, are Santa Rosa, Ohlone (36-3), Sacramento City (28-11) and San Joaquin Delta (31-9).
CCCAA Baseball Championships
Regional Pairings
Play-in Games
Northern California
No. 17 Los Medanos 6, No. 16 Sierra 5
No. 15 Reedley 8, No. 18 Lassen 7
Southern California
No. 17 Southwestern 4, No. 16 Golden West 3
No. 18 Irvine Valley 11, No. 15 Chaffey 2
First Round
Best-of-three
May 5-6 (Friday-Saturday)
Northern California
No. 17 Los Medanos (25-15) No. 1 College of San Mateo (33-6)
No. 9 College of the Sequoias (28-12) at No. 8 Feather River (22-16)
No. 12 Skyline (28-11) at No. 5 San Joaquin Delta (31-9)
No. 13 Chabot (24-15) at No. 4 Sacramento City (28-11)
No. 14 Cosumnes River (24-15) at No. 3 Ohlone (36-3)
No. 10 Fresno City (26-14) at No. 6 College of Marin (26-13)
No. 11 Cabrillo (27-13) at No. 7 Merced (26-14)
No. 15 Reedley (26-15) at No. 2 Santa Rosa (29-7)
Southern California
No. 17 Southwestern (26-15) at No. 1 Orange Coast (31-9)
No. 9 Palomar (31-8) at (8) L.A. Mission (26-13)
No. 12 Glendale (32-8) at No. 5 El Camino (33-7)
No. 13 Saddleback (25-15) at No. 4 Long Beach City (26-13-1)
No. 14 Santa Ana (26-14) at No. 3 College of the Canyons (27-12)
No. 11 Cypress (27-13) at No. 6 Santa Barbara (23-16)
No. 10 Riverside City (29-11) at No. 7 Pasadena City (24-13)
No. 18 Irvine Valley (19-22) at No. 2 Grossmont (28-7-1)
Super Regional
Best-of-three
Home sites
May 12-14
Sectional Regional
Best-of-three
Home sites
May 19-21 
CCCAA State Championships
Fresno, Calif. (Fresno City College)
May 27-29