Griffins win playoff opener over Lasers
Grossmont readies for the game just moments prior to the start on Friday.
2017 GROSSMONT GRIFFINS BASEBALL
By Ramon Scott
EastCountySports.com
EL CAJON – The fans came to see the Grossmont Griffins swing the bats and the home nine obliged with 12 hits in a 9-2 romp over Irvine Valley College in the first round of the CCCAA Southern California regional playoffs at Noel Mickelsen Field Friday afternoon.
The Griffins (29-7-1) took a 1-0 lead in the best-of-three series, which concludes here on Saturday. Game two is at 11 a.m., with a third game, if necessary, slated to start at 3.
Grossmont scored five runs in the second innings, thanks in part to a couple of errors of Irvine Valley, along with RBI singles from ERIC DE LA ROSA and MICAHEL DIFFLEY.
Irvine Valley got to Grossmont starter HAYDEN SHENEFIELD for a couple of runs in the fourth innings, but the Griffins came right back with a three-spot in the bottom half of the frame with three extra-base hits.
DAVID MALDONADO tripled home CABOT VAN TIL, JUSTIN BURKEY doubled down the left field line to drive in Maldonado, and TREVOR BEARD followed with another double down the left side to bring in Burkey.
Other than the slight blip, Shenefield (6-0) was able to strike out nine hitters overall, while allowing five hits and three walks in eight innings of work.
JAVIER DE LA TORRE retired the only two hitters he faced in the ninth, inducing a double play, one of four twin-killings by Grossmont on the afternoon.
Playoff scoreboard
| | | | | | | |
| --- | --- | --- | --- | --- | --- | --- |
| Los Medanos | 0 | San Mateo | 18 | Final | • | BX BX BX BX |
| Chabot | 2 | Sacramento City | 8 | Final | • | BX BX BX BX |
| Sequoias | 1 | Feather River | 6 | Final | • | BX BX BX BX |
| Reedley | 8 | Santa Rosa | 13 | Final | • | |
| Skyline | 2 | San Joaquin Delta | 8 | Final | • | BX BX BX BX |
| Fresno | 4 | Marin | 10 | Final | • | BX BX BX BX |
| Cypress | 9 | Santa Barbara | 0 | Final | • | BX BX BX BX |
| Santa Ana | 10 | Canyons | 5 | Final | • | BX BX BX BX |
| Saddleback | 2 | Long Beach | 1 | Final | • | BX BX BX BX |
| Palomar | 3 | LA Mission | 6 | Final | • | BX BX BX BX |
| Riverside | 11 | Pasadena City | 12 | Final | • | BX BX BX BX |
| Glendale | 1 | El Camino | 3 | Final | • | BX BX BX BX |
| Southwestern | 1 | Orange Coast | 8 | Final | • | BX BX BX BX |
| Irvine Valley | 2 | Grossmont | 9 | Final | • | BX BX BX BX |
| Cabrillo | 7 | Merced | 4 | Final | • | BX BX BX BX |
| Cosumnes River | 10 | Ohlone | 1 | Final | | BX BX BX BX |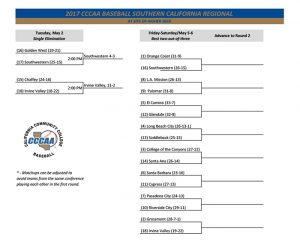 Irvine Valley vs Grossmont
@ El Cajon, Calif. | Noel Michelsen
5/5/2017 at 1:58 PM
| FINAL | 1 | 2 | 3 | 4 | 5 | 6 | 7 | 8 | 9 |  R |  H |  E |
| --- | --- | --- | --- | --- | --- | --- | --- | --- | --- | --- | --- | --- |
| Irvine Valley (19-23) | 0 | 0 | 0 | 2 | 0 | 0 | 0 | 0 | 0 |  2 |  5 |  2 |
| Grossmont (29-7-1) | 0 | 5 | 0 | 3 | 0 | 0 | 0 | 1 | X |  9 |  12 |  1 |
Irvine Valley

HITTERS
AB
R
H
RBI
BB
SO
LOB

Colin Conroy

 2b
4
0
1
0
0
1
2

Ryan Rafferty

 3b
4
0
0
0
0
1
0

Tyler Odekirk

 ss
4
1
1
0
0
2
0

Cole Joy

 rf
4
1
1
1
0
1
0

Tyler Wagner

 1b
1
0
1
0
0
0
0
   

Alec Ceniceros

 1b
2
0
0
0
1
2
0

Ryan Gaynor

 c
2
0
0
0
2
0
0

Robbie Espinosa

 dh
3
0
0
0
0
0
0

Wyatt McGinnis

 lf
1
0
0
0
1
1
2
   

Zack Stack

 lf
1
0
1
0
1
0
0

Nick Jacobson

 cf
3
0
0
0
0
2
2

John Stevens

 p
0
0
0
0
0
0
0
   

Eric Brunst

 p
0
0
0
0
0
0
0
Totals
29
2
5
1
5
10
6
BATTING
3B: Tyler Odekirk
RBI: Cole Joy
GIDP: Ryan Rafferty; Ryan Gaynor; Nick Jacobson
BASERUNNING
CS: Nick Jacobson
FIELDING
E: Colin Conroy 2
Irvine Valley

PITCHERS
IP
H
R
ER
BB
SO
HR

John Stevens

 (L, 5-6)
5.0
10
8
8
3
2
0

Eric Brunst

3.0
2
1
1
0
1
0
Totals
8.0
12
9
9
3
3
0
PITCHING
Batters Faced: John Stevens 28; Eric Brunst 11
PITCHERS
IP
H
R
ER
BB
SO
HR

Hayden Shenefield

 (W, 6-0)
8.0
5
2
2
3
9
0

Dylan Gargas

0.1
0
0
0
2
1
0

Javier De la Torre

 (Sv, 4)
0.2
0
0
0
0
0
0
Totals
9.0
5
2
2
5
10
0
PITCHING
Batters Faced: Hayden Shenefield 31; Dylan Gargas 4; Javier De la Torre
HBP: Hayden Shenefield; Dylan Gargas