Highlanders bite Lancers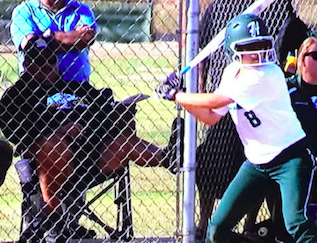 2017 EAST COUNTY PREP SOFTBALL
By Adam Paul
EastCountySports.com
Helix 10, Francis Parker 5: The Highlanders double up on the Lancers to secure the victory.
Francis Parker in the top of the first inning pushed across a couple of runs to take an early 2-0 lead. However the Highlanders would answer in the bottom of the first. Leadoff hitter AVERY PEREZ reached on an error, EMILY COALE was hit by a pitch, GABBY OLIVARRIA walked which loaded the bases, MCKENZIE FLORES drove in a run on a sacrifice fly to make it 2-1 and the second run would score on a double steal to tie the game at 2-2.
Both teams would hold service until the bottom of the third when Helix would take the lead by scoring a couple of runs, Olivarria ripped a double and would score on the triple by Flores who herself would score on a sacrifice fly by FAITH KING to make it 4-2.
Helix would bat around in the bottom of the fourth and basically put the game away when they scored four more runs. Perez, King, ERIN BROWN and KASEY CASTRO all would single. The big hits the doubles would come courtesy of Olivarria and ZOE KUHLKEN.
Kuhlken would get the victory in a complete game, giving up 5 runs on 7 hits, walked 4 and struck out 4.