Taijeron hits one to Area 51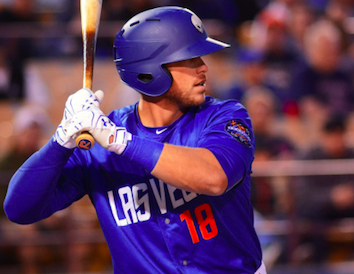 Taijeron
📽️ Watch @TravisTaijeron's three-run moonshot from earlier in the sixth inning: pic.twitter.com/VH8rDMzFRw

— Las Vegas 51s (@LasVegas51s) May 6, 2017
2017 LOCAL BASEBALL PROS
By Bill Dickens
© East County Sports.com
LAS VEGAS (5-6-17) — Former Granite Hills pitcher TRAVIS TAIJERON is making an impact with the Triple-A Las Vegas 51s, who defeated Tacoma 9-1 in the series finale.
The offense clicked tonight with Taijeron's 3-run HR in the 6th. His blast capped a 4-run inning.
For the season he is hitting .299 with five home runs and 18 RBI.