Patriots, Knights enjoy Saturday wins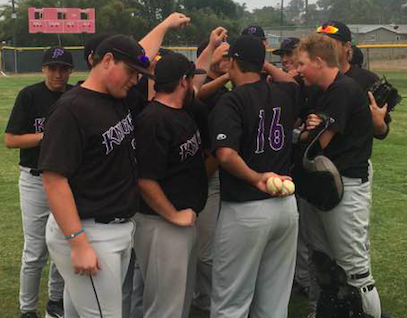 2017 EAST COUNTY PREP BASEBALL
By Bill Dickens
© EastCountySports.com
EL CAJON (5-7-17) — Arizona State University-bound ZACH HOGUEISSON hoisted his 10th home run of the season and BRADLEY JEREMIAH pitched a complete game 2-hit shutout as the Patriots pounded Serra 9-0 in Saturday's (May 6) non-conference game.
Hogueisson's bomb came with one man on in the 5th inning, which was part of a 7-run explosion for Christian.
After Christian took a 2-0 lead in the 2nd inning on a wild pitch and an RBI single by JUSTIN LEDGERWOOD, the Patriots put it all together in the 5th.
CHASE WEHSENER set the tone with a leadoff double in the 5th. Hogueisson whacked his long fly ball over the right field fence to make it 4-0.
The rally for the Patriots continued in the 5th as GARRETT NIELSEN singled to left and Ledgerwood singled to right. Then ETHAN CONTRERAS beat out a sacrifice bunt to load the bases. JAKOB BECK hit into a fielder's choice, scoring Nielsen. MATTHEW RICHARDSON ripped a single to left to reload the bases. That set the stage for JESSE MATTHEWS' line drive double that drove in three runs.
Richardson capped the scoring by racing home on a wild pitch.
Jeremiah held Serra to two hits as he rolled his record to 5-2.


FOOTHILLS CHRISTIAN 7, MOUNT MIGUEL 0 – The Knights of Foothills Christian High maintained their poise and position for the final Ocean League season push with an impressive 7-0 non-league victory Saturday (May) in Spring Valley.
The Knights scored three runs in the 1st inning as JUSTIN EICHER singled in a run and BAILEY LEWIS doubled in two more.
In the 7th inning, BRADLEY BROWN walked for the Knights and HUNTER NICKELL ran for him. CHRIS STALLARD singled on a line drive to right, BAILEY LINK singled to center, scoring Nickell. Then JALANI BROWN blasted a triple, scoring Stallard and Link.
TREVOR SMALLWOOD pitched a complete game shutout for the Knights by scattering 7 hits and striking out 7.
Matadors leadoff hitter CAMERON BEAUZEC was 2-for-3 and ANGELO ZERTUCHE also had 2 hits in 3 at-bats.
STEELE CANYON 7, EL CAJON VALLEY 0 (DH) (2 forfeits) – Two games of a doubleheader at Steele Canyon were Grossmont Valley League forfeit wins for the Cougars by El Cajon Valley, which could not field a team.
Sat., May 6
Grossmont Valley League
COUGARS 7-7, BRAVES 0-0 (DH/2 forfeits)
Steele Canyon 7-7, El Cajon Valley 0-0
 
Non-League
PATRIOTS 9, CONQUISTADORS 0
Serra     (18-9) 000 000 0 -  0  2 0
Christian (20-5) 002 070 x -  9 10 0
Sipchen, Cowardin (3), Cervi (5) and Pomp. 
Jeremiah and Josephson. 
WP-Jeremiah (5-2). LP-Sipchen (4-1).

KNIGHTS 7, MATADORS 0
Foothills Christian (18-8) 300 000 4 – 7 7 0
Mount Miguel        (5-19) 000 000 0 – 0 7 1
Smallwood and Link. NCamacho, Solis (7) and Montijo. 
WP-Smallwood. LP-NCamacho.