ROUNDUP: Knights' Gates whiffs 16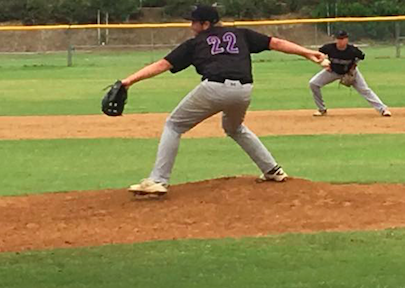 Foothills Christian's Josh Gates delivers a pitch on Wednesday.
2017 EAST COUNTY PREP BASEBALL
By Ramon Scott
EastCountySports.com
ESCONDIDO – No matter how dominant the Foothills Christian Knights have been in the Ocean League so far this season, Wednesday's game at fellow league unbeaten Calvin Christian still loomed as the game of the year in the conference.
And it was another near-perfect performance from the Knights in a 9-0 road win to take over sole possession of first place.
JOSH GATES was dominant on the mound, spinning a no-hitter for 6 1/3 innings and finishing with 16 strikeouts.
Gates' K-performance is only surpassed in school history by MITCHELL WYGANT, who had 17 strikeouts against Calvin back in 2005.
Gates finished with a complete-game two-hitter.
He also went 2-for-4 at the dish with two RBI.
"We just rode Gates," Foothills Christian coach DAVE LEWIS said. "He shut them down."
Foothills Christian scored five runs in the fourth inning. Foothills Christian's big inning was driven by a double by BAILEY LINK, and a single by BRADLEY BROWN.
JALANI BROWN drove in two runs with a pair of hits for playoff-bound FCHS (5-0, 19-8).
The League race is far from over with three games left, but consider the Knights have outscored its opponents, 53-0, in Ocean play.
Link had two hits, scored twice and drove in a run for the Knights.
GRANITE HILLS 2, SANTANA 0 – The Eagles' WILLIAM BURTON turned in a career-best performance on the mound with a crucial late-season two-hit shutout of the first place Sultans on the road.
And the Granite Hills (12-13, 3-6 GHL) offense stunned the hosts with two runs in the top of the seventh inning, including a RBI triple by TREVOR OMAHEN with one out.
Burton, a junior, tossed seven innings, surrendering zero runs, two hits, striking out eight, and walking zero.
He outdueled the circuits' top hurler, NOAH NUNEZ, who was nearly equal to the task. He threw seven innings, surrendering two runs, six hits, striking out ten, and walking one.
BRAYDEN ANDERSON had a bunt single for the Eagles' insurance run, scoring Omahen.
The loss reduced the Sultans' lead to one game over second-place Helix.
HELIX 9, GROSSMONT 8 – Helix may have already caught word of the upset in Santee, as the Highlanders rallied from a 7-1 deficit thanks to a 14-hit attack to keep their title shot alive and all but ending the Hillers' hopes.
AUSTIN KOVALCHECK was Mr. Game Winner with a double for the decisive run and the walk-off win.
Grossmont scored five runs in the fourth inning, including a three-run home run by JAYDEN LOMBARDO, his fifth of the season.
Helix came back with four runs in the fifth inning, including singles by ZACK OWENS and CONNOR KONISHI. Konishi had three hits, as did MATTHEW RICHARDSON.
ERIC SMELKO got the win with one scoreless inning, with one strikeout.
Junior AUSTIN ODOM hit a two-run home run, his third of the campaign, for Grossmont in the fifth inning.
Helix's CARLOS OQUITA had two hits and two runs scored, while teammate AUSTIN KRETZSCHMAR, who drove in a run and scored in the Scotties' three-run sixth, had two RBI and scored two runs.
Helix is 7-3 in the Grossmont Hills League and 17-10 overall. The Highlanders now trail the Sultans by just one game with two games left. Helix and Santana meet on Friday at 4 p.m. in La Mesa.
STEELE CANYON 5, WEST HILLS 1 – The Cougars kept the pace in the Grossmont Valley League behind senior TYLER LUBAN, who pitched five innings of two-hit ball for the win.
BILLY TELLOUS was a one-man wrecking crew for the Cougs, driving in four runs with three hits, including a double.
JOSH ESQUIBEL tripled and scored on Tellous' first-inning two-bagger.
Steele Canyon (9-3 GVL, 17-9) remained two games behind first-place Valhalla with three games remaining. The Cougars face the Norsemen on the road on the final day of the season.
Junior LUKE ARIAS had a double and scored twice for Steele Canyon.
NOAH QUINTANA walked and scored on a balk in the fifth and West Hills managed a mild rally in the sixth, but came away empty.
The Cougars scored three times in the 1st inning, but only one run was earned due to a throwing error, a fielding error and an interference call. The Pack (11-13 overall, 7-5 GVL) were officially knocked out.Luban retired the first 12
Luban retired the first 12 consecutive batters he faced, carrying a perfect game into the 5th inning.
Quintana survived a 9-pitch at-bat to accept a pinch-hit walk to lead off, then JASON VILLASANA ended the no-hit bid with a sharp, clean single to right field to place runners on the corners.
The Wolf Pack end the week-long roadtrip Friday at Mount Miguel. First pitch is slated for 4 p.m.
VALHALLA 17, MOUNT MIGUEL 3 – TANNER SMITH drove in three runs and pitched 4 1/3 scoreless innings for the win and the Norsemen cruised to a key Grossmont Valley League win.
LEWIS DIRKES also drove in three runs in the contest as the Valhalla (11-1 GVL, 15-11) broke open a scoreless game with six in the top of the fourth.
MAX HAGEMAN also drove in a run in the six-run outburst, while JACOB BARBA was a leadoff menace, getting two hits, scoring three runs and driving in two, while RYAN PEROT was 3-for-4 with three runs scored and a RBI.
Mount Miguel scored three runs in the sixth inning, as senior ANDREW MONTIJO kept up his late-season power surge with his sixth round-tripper of the season.
Junior ANGELO ZERTUCHE and sophomore AUSTIN ORTIZ each had two hits for Mount Miguel.
MONTE VISTA 13, EL CAJON VALLEY 2 – The playoff-bound Monarchs continued their strong season by improving to 7-5 (16-10 overall) in Grossmont Valley League play and won their fourth-straight game in league.
For the Braves, meanwhile, it was another positive effort based on the fact that the squad was able to come together once again for a complete game following a series of forfeits over the last two weeks.
LIBERTY CHARTER 9, RIVER VALLEY 2 – In a rematch of East County teams in the Apollo League, Liberty Charter improved to 6-0 in league.
NICHOLAS SARRAULT kept up his assault, as he drove in three runs just one game after a 7-RBI performance against King-Chavez Community.
He had three hits on Wednesday, including a double. He hit his first HR of the season in the win over King-Chavez. The 10 RBI over the two games gives him 17 for the season.
He is hitting .579 this season.
MANNY LOPEZ had two doubles and two RBI for the Lions.
BLAKE BISHOP threw 3 2/3 scoreless innings for Liberty Charter (13-5-1), which will likely qualify for the Division V playoffs.
Wed., May 10, 2017
Grossmont Hills League
HIGHLANDERS 9, FOOTHILLERS 8
Grossmont        ab r h bi Helix            ab r h bi
Ford cf           4 2 2 0  Richardson ss     4 1 3 1
Odom rf           4 2 1 2  Kretzschmar 3b    4 2 1 2
Lombardo p-3b-lf  3 1 1 3  Smelko cf-lf-p    2 2 0 0
JGarcia 1b        4 0 0 0  Peterson lf-ss-2b 3 1 2 0
Hulett lf-3b-p    3 1 1 0  Owens dh          4 0 1 1
Giavengo ss-p     2 2 1 0  Konishi p-ss-lf   4 1 3 1
Levin 2b          3 0 1 1  Isbell c          1 0 1 1
Romero dh         2 0 0 1  Padilla rf        2 0 0 0
Parent 3b         3 0 1 1  Kovalcheck 3b-rf  2 0 1 1
Fawler            - - - -  Oquita 1b         3 2 2 0
Russell           - - - -  Chase             - - - -
                           Zamora            - - - -
                           Estrada           - - - -
TOTALS           28 8 8 8  TOTALS          29 9 14 7

 Grossmont (13-14, 5-5) 000 521 0 – 8  8 1
 Helix     (17-10, 7-3) 001 043 1 - 9 14 1

E-Lombardo, Zamora.
LOB-Gro 2, Hel 6.
2B-Kovalcheck, Oquita 2. 
HR-Lombardo (5) 4th, two on; Odom (3) 5th, one on. 
SB-Giavengo, Konishi, Peterson. 
CS-Richardson. Sac-Romero, Peterson, Isbell. 
SF-Isbell.

PITCHING SUMMARY
Grossmont        ip  h  r er bb so
 Lombardo       4.0  7  3  3  1  2
 Hulett         1.1  5  5  4  2  0
 Giavengo L     1.0  2  1  1  0  1
Helix
 Konishi        5.0  7  7  6  0  5
 Estrada        1.0  1  1  1  1  2
 Smelko   W     1.0  0  0  0  1  1
WP-Giavengo, Lombardo 2, Hulett, Konishi.

EAGLES 2, SULTANS 0
Granite Hills     ab r h bi Santana         ab r h bi
Ross cf            4 0 1 0  Salinas cf       2 0 0 0
Hazelhurst rf      3 0 0 0  Rasmusson ss     3 0 0 0
Cossio lf          3 0 0 0  NNunez p         3 0 0 0
Verdon 3b          3 0 1 0  Simmons dh       2 0 1 0
Joslyn c           3 1 1 0  NJackson pr      0 0 0 0
Fenn 1b            3 0 0 0  Calvert rf       3 0 0 0
Omahen ss          2 1 1 1  Allen-Fox c      3 0 1 0
McGrew 2b          3 0 1 0  TTaylor pr       0 0 0 0
Anderson dh        3 0 1 1  Tolhurst 2b      2 0 0 0
Burton p           - - - -  Alesi 1b         2 0 0 0
                            Ellis lf         2 0 0 0
                            Oedewaldt        - - - -
TOTALS            27 2 6 2  TOTALS          22 0 2 0 

 Granite Hills (11-14, 2-7) 000 000 2 – 2 6 0
 Santana        (18-8, 8-2) 000 000 0 – 0 2 0

E-None.
LOB-GH 5, Sant 4.
3B-Omahen. SB-Verdon, Salinas 2. Sac-Tolhurst. 

PITCHING SUMMARY
Granite Hills     ip  h  r er bb so
 Burton  W       7.0  2  0  0  0  8
Santana
 NNunez L        7.0  6  2  2  1 10
HBP-Burton 2. WP-Burton.




Grossmont Valley League
NORSEMEN 17, MATADORS 3
Valhalla        ab r h bi Mount Miguel       ab r h bi
Barba 3b         3 3 2 2  Beauzec 1b          3 1 1 0
Dirkes ss        4 2 2 3  NCamacho p-ss-3b    3 0 0 0
RO'Sullivan 1b   5 1 2 2  Conwright cf        3 0 1 0
Casper cf        4 2 2 1  Preciado 3b-2b-rf   3 1 0 0
Hageman c        4 1 1 2  Ortiz ss            3 0 2 0
Howard rf        3 2 1 0  Montijo c           2 1 1 2
TSmith p         2 0 1 3  Zertuche 2b-ss-p    3 0 2 0
CSt.Clair 3b-p   2 1 1 0  Solis rf-2b-p       2 0 0 0
Heider dh        3 0 0 0  Harris lf           2 0 0 0
JSt.Clair dh     2 2 1 0  Beas                1 0 0 0
Perot lf         4 3 3 1  Mendoza lf-rf       0 0 0 0
TOTALS       36 17 16 14  TOTALS             26 3 7 3

 Valhalla    (15-11, 11-1) 004 604 3 – 17 16 2
 Mount Miguel (5-21, 2-11) 000 003 0 -  3  6 2

E-CSt.Clair, JSt.Clair, NCamacho, Preciado 2.
DP-Val 1.
LOB-Val 10, MM 4.
2B-Barba, TSmith, Conwright. HR-Montijo 6th, one on. 
SB-TSmith, Preciado, Zertuche. CS-Barba. SF-Hageman.

PITCHING SUMMARY
Valhalla         ip  h  r er bb so
 TSmith  W      4.1  3  0  0  0  2
 CSt.Clair      1.2  2  3  1  0  2
 Ingrassia      1.0  1  0  0  0  1
Mount Miguel
 NCamacho  L    3.1  5 10  8  7  0
 Zertuche       1.2  4  3  3  2  0
 Solis          2.0  6  4  2  0  1
HBP-TSmith, NCamacho 3. BK-Solis.

COUGARS 5, WOLF PACK 1
West Hills      ab r h bi Steele Canyon   ab r h bi
Thrailkill 2b    2 0 0 0  Brinkmeier cf    4 1 1 0
Sanford dh       3 0 0 0  YSmith 3b        3 0 0 0
Hughes lf        3 0 0 0  Esquibel lf      2 2 1 1
Bailey 1b        1 0 0 0  Arias c          1 2 1 0
Villasana c      3 0 1 0  Tellous 3b       3 0 3 4
PCraft rf        1 0 0 0  Dickey 1b        0 0 0 0
Wittmeier 3b     1 0 0 0  Yanez 2b         3 0 1 0
Gagliano ss      3 0 0 0  Mata ss          2 0 0 0
Schroeder cf     2 0 0 0  Canales ph       1 0 0 0
Quintana 1b      0 1 0 0  McCarthy rf      2 0 0 0
Commerford rf    2 0 1 0  Pedrin dh        3 0 1 0
DCraft 3b        1 0 0 0
Travoli ss       1 0 1 0
TOTALS          23 1 2 0  TOTALS          24 5 8 5

 West Hills   (11-15, 7-5) 000 010 0 – 1 3 1
 Steele Canyon (17-8, 9-3) 301 010 x – 5 8 0

GWRBI-Esquibel.
E-Wittmeier.
DP-WH 1, SC 1.
LOB-WH 4, SC 5.
2B-Yanez, Arias, Tellous. 3B-Esquibel. 
SB-Brinkmeier 2, DCraft, Schroeder. Sac-Arias. 
CS-McCarthy.

PITCHING SUMMARY
West Hills        ip  h  r er bb so
 Sherwin L(0-2)  6.0  8  5  4  3  2
Steele Canyon
 Luban  W(5-2)   5.0  2  1  1  1  2
 Nadeau          1.0  1  0  0  2  1
 Schirer         1.0  0  0  0  0  0
HBP-by Schirer (DCraft). BK-Luban.

MONARCHS 13, BRAVES 2
Monte Vista     (17-11, 6-5) 13
El Cajon Valley (4-17, 0-12)  2
(No further information provided.)

Non-League
KNIGHTS 9, CRUSADERS 0
Foothills Christian ab r h bi Calvin Christian ab r h bi
Link ss              4 2 2 1  Corona p-cf       3 0 0 0
Jalen Brown ph       1 0 1 0  Lovisa cf-p       3 0 0 0
Jalani Brown cf      4 1 2 2  Shockley c        2 0 0 0
Gate p               4 0 2 2  Lose 1b           3 0 1 0
Eicher dh            4 1 2 0  Garcia ss         3 0 1 0
Stallard 2b          0 0 0 0  Dietrich 3b       3 0 0 0
Lewis lf             3 1 1 1  Stires lf         3 0 0 0
Smallwood 3b         4 1 1 0  Pilgrim rf        2 0 0 0
BBrown 1b            3 1 2 1  Katje 2b          2 0 0 0
Wurts c              3 0 0 0
Barling rf           1 2 0 0
Thompson ph          1 0 0 0
Nickell ph           1 0 1 0
TOTALS             33 9 14 7  TOTALS           24 0 2 0

 Foothills Christian (19-8, 5-0) 001 503 0 – 9 14 0
 Calvin Christian    (7-10, 4-1) 000 000 0 – 0  2 3 
GWRBI-Jalani Brown.
E-Katje 2, Pilgrim.
LOB-FC 7, Calv Chr 4.
2B-Lewis. SB-Jalani Brown. SF-Jalani Brown.

PITCHING SUMMARY
Foothills Christian  ip  h  r er bb so
 Gates  W(4-2)      7.0  2  0  0  1 16 
Calvin Christian
 Corona L           3.0  3  1  1  1  1
 Lovisa             2.1  8  8  8  2  1 
 Garcia             1.2  3  0  0  1  1