Momentum carries Sultans to title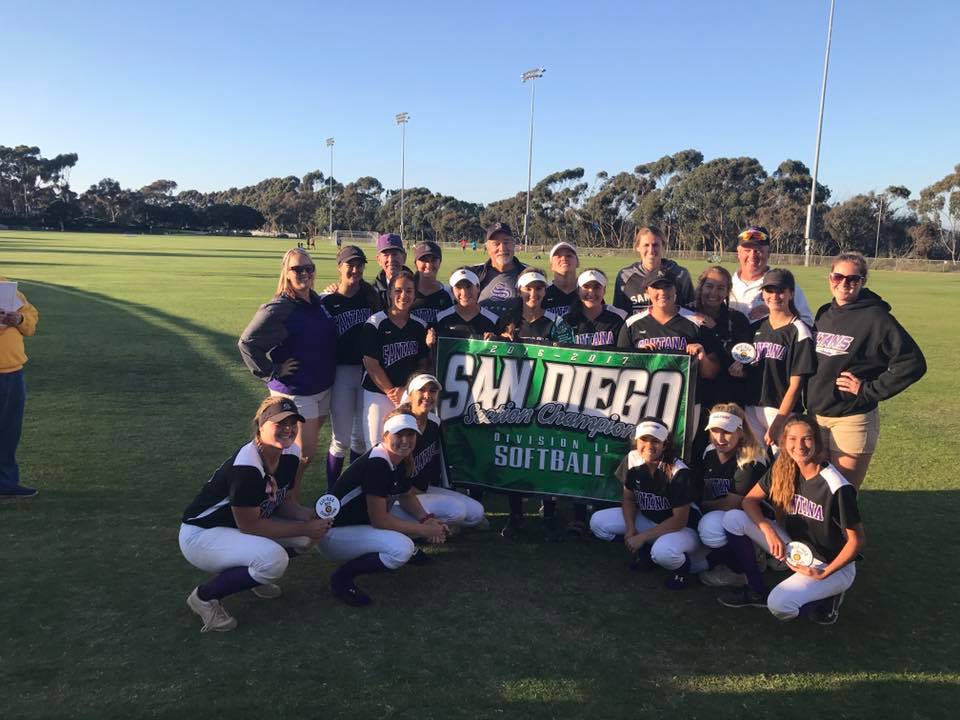 2017 EAST COUNTY PREP SOFTBALL
By Adam Paul
Division II Championship
UCSD
# 1 Santana 7, #2 Steele Canyon 4: Sultans gain momentum early and in the end tame their league rival the Cougars.
Santana would have the first crack to set the tone and did so as with one out, MACKENZIE BENNETT (2-3, R, 2 RBI, HR) roped a single to right, BRIANNA JERIG into run, CASSIDY MATTHIE (1-4, R) followed that with a single to left, and a couple batters later with two outs NICOLE MADRIGAL (RUN) hit a grounder to short that was misplayed which allowed Jerig to score to give the Sultans a 1-0 lead and advance Matthie to third. Next up was ASHLEY MADRIGAL (1-3, R, 2 RBI, 2B) who went down 0-2 when Nicole Madrigal would steal second base, so with the count 0-2 Madrigal would keep working the count as it went full and on the very offering connected and smashed a double to right that scored both Matthie and Nicole Madrigal to extend the lead to 3-0.
In the bottom of the first the Cougars looked to cut into the lead but would only get a single by GENTRY HOFFMAN (2-4, RBI) before being retired to end the inning.
So now leading 3-0 the Sultans went back to business in the top of the second inning. Leadoff hitter SYDNEY BENJAMIN (RUN) walked, ERICA REID sacrificed Benjamin to second, with one out MADISON MENDEZ (2-3, RBI, 2B) roped a double to left that scored Benjamin to make it 4-0, DESIREE LYNCH into run. This brought up Bennett who on the very offering from MAKAYLA MCCARTHY absolutely crushed a high fly ball deep and over the center field fence for the 2-run big mack jack which went over 210 feet. The dinger now gave the Sultans a 6-0 lead and also the momentum was now in their favor as the Sultans faithful who came to watch all went bonkers.
@SantanaSultans jump out to 6-0 lead w/ Mackenzie Bennett's 2-run blast. They beat Steele Canyon 7-4 to win @cifsds DII title@fox5sandiego pic.twitter.com/UAZIWCl2b3

— Jacob Roth (@Jacob_Roth21) May 28, 2017
However the Cougars knew they could comeback as they had before against the Sultans as anytime these two teams meet it was going to be a dogfight.
Steele Canyon knew they had to do something to cut into the six run deficit and in the bottom of the second leadoff hitter JJ VENZOR (1-3, R) singled, MARIANNA MARTINEZ (1-3, 2B) roped a double to left which put runners at second and third, ELIZABETH BOTT (RUN) into run for Martinez, MACKENSIE PEARLSTEIN (1-3) would strikeout, EMMA DODSON (2-3, R, RBI) followed with a lined single to center that scored Venzor to make it 6-1, Bott advanced to third and on the throw Dodson advanced to second, a couple batters later with two outs AUDREY BAGGE (2-4, 2 RBI) on a 3-2 count laced a single that scored Bott to make it 6-2.  Still threatening and looking for more, up stepped Hoffman but Mendez would get her to pop up for the third and final out of the inning.
Santana in the top of the third was able to push across another run, with one out Ashley Madrigal drew a walk, LAKAILA AQUININQOC came up and hit a ground ball back to McCarthy and it looked like she would be out at first but an overthrow would occur which allowed Madrigal to score to make it 7-2
Things would move to the bottom of the fourth and would get very interesting as Dodson singled with one out, JASMIN ALVARADO (1-3, R, 2B) roped a double, Bagge lined a single to score Dodson to make it 7-3, Hoffman followed with another single to center which brought home Alvarado to cut the Sultans lead 7-4. Still with only one out and looking to do more damage as there were runners on first and second, McCarthy came to the plate to try and do just that.  However Mendez had other ideas and was able to get the count 2-2 and on the very next pitch McCarthy would groundout to Benjamin at second who flipped it for the out at second and then to first for the double play to end the threat.
Steele Canyon in the bottom of the sixth which had always been a good inning for them against the Sultans looked like they were on the right track as Pearlstein led off with a single. However Mendez would get the fielders choice out and would strikeout the next batter and get the groundball out to end the inning.
Santana would get a runner on in the top of the seventh as Nicole Madrigal reached on an error but that would be all.
Now heading into the bottom of the seventh inning and needing only three more outs, the Cougars knew they still had a shot as they had come back before against the Sultans in the very last inning.
Knowing the Sultans needed only three more outs the nervous crowed cheered on and they had a right to be nervous because they knew it wasn't over till the third out.
Steele Canyon had the batters coming up who could spark the comeback. Leading off for the Cougars, Hoffman who looked to get something going. Mendez for the Sultans threw the first offering which was called a ball, the next pitch was foul, with the count 1-1, the next pitch was called a ball. The count would get to 2-2 before Mendez threw the very next pitch in which Hoffman would be called out on strikes for the first out.  Up next was McCarthy who on a 2-2 count would hit the Mendez offering to third base where RACHEL WILSON would field it and throw it to first base for the second out of the inning.  So with two outs the crowd came more alive and roared even louder. Up stepped MAKAYLA STROMENGER who looked to keep the inning alive. She would work the count in her favor as it went to 3-1. The next pitch by Mendez, Stromenger hit a high fly ball to center field which looked like it would fall in for a hit as it was dropping but Matthie who was charging in leaped like Superwoman and in the process was able to make the catch for the amazing Sportscenter play and also the final out of the game and give the Sultans the victory and championship.
In the loss, McCarthy for the Cougars went 7 innings, giving up 7 runs on 6 hits, walked 4 and struck out 2.
Mendez for the Sultans went 7 innings for the victory, giving up 4 runs on 10 hits, walked 0 and struck out 5 to garner her twenty-fourth victory on the season.
"The atmosphere was electric and we thrived off of that and used it to help us. We did come out nervous but we shook that off quickly and when we scored first that really helped. It feels good to get the win and send out the seniors this way." Said Sultans pitcher Madison Mendez.
"I felt it come off the bat and I was able to connect." Said Bennett on her second inning homerun. "We came ready to win and we really wanted to win after they had beaten us in the semi-finals so we came in with a game plan of coming out first to get momentum and from there hold them."
"It was really important to score first as we wanted them to chase us instead of us chasing them." I knew it was going to be a battle as it is every time we play them as they are our league rival." Said Sultans coach JOHN FAILA when asked about the game plan and the feeling of playing Steele Canyon in the Championship.
It was the first title for the Sultans since 2013.