Sans umpires, newcomers frustrated by Stars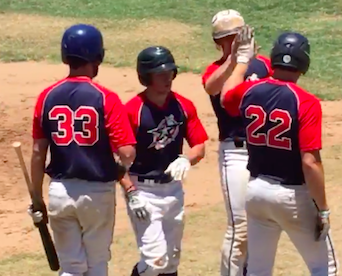 The Stars celebrate a three-run hit on Sunday.
2017 SAN DIEGO STARS BASEBALL
By Nick Pellegrino
Special to East County Sports.com
BARONA INDIAN RESERVATION (
6-19-2017
) – The San Diego Stars jumped to an early 7-1 lead in a WBA league game where the umpires failed to arrive to officiate the game, taking an eventual 14-2 pasting from the San Juan Capistrano Stars on Sunday.
The teams canceled the second ballgame.
San Diego Stars third baseman Joey Krug posted a career day, batting 5-for-5 with six RBI, including a 3-run double to blow open the game in the 3rd inning.
After Ronald Stokes stole second base in the 2nd, then scoring on a catcher's throwing error and the center fielder's fielding error of the poor throw for a 2-1 lead, San Diego followed with five runs in the 3rd.
With Ryan Culp lead walk), Jeremiah Barr (single) and Aaron Barkley (single) on base, Krug jerked the ball past the SJC third baseman into the corner to score all three runners.
Moments later, Krug scored on an Eric De La Rosa home run to left field for a 7-1 cushion.
Krug also posted a leadoff single and a 2-run double I the 5th, when San Diego added six additional runs to make it 13-2. An inning later, Shane Coleman homered to right, a solo shot for the final run.
Barr also struck out 10 batters in his six innings to collect the victory, Stars newcomer Bailey Roberson, although he only pitched two innings, received credit for the saves since SJC vacated the contest.
The Stars (9-3 overall) have now won 9-of-10. If San Diego gains credit for two WBA wins (the 14-2 game, plus a forfeit of the second game), they would move into first place in the WBA South, a ful game ahead of the San Diego (Poway) Crush – the Stars' next opponent
on Thursday
at Poway High, starting at an early
4:30 p.m.