Rocker, catcher Gonzales' next stage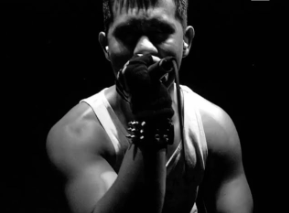 Hank Gonzales
2017 SAN DIEGO STARS BASEBALL
By Nick Pellegrino
Special to East County Sports

SANTEE (6-20-2017) —- As the show business expression goes, "it took a lifetime to become an overnight success."
San Diego Stars catcher Hank Gonzales has yet to see his Big League dreams come true, but his twisting, turning road to a professional contract has been obtained.
Following a series of successful tryouts held at Petco Park and the MLB Training facility in Compton, Gonzales, who was not selected in the recent free-agent player draft, was asked to sign a deal with an independent league team in order to remain on MLB's radar. Over the weekend, Gonzales officially left the Stars to sign with the Vallejo Admirals of the Pacific Association.
"I was doing my own thing for a long time, but over the last year, I decided to do what I really needed to do in order to sign," said Gonzales. "There was a ton of work, including the weight room, and all of my friends and family said I had the talent."
"But when the scouts said I had the talent — and they put their jobs on the line if they're wrong — that really motivated me."
Upon first gaining an opportunity to shine in front of the entire San Diego Padres scouting staff, Gonzales was strong when catching several bullpen sessions, then displayed all of the hitting traits needed in showing power and hitting to all parts of the field.
"The hitting session was one of the most important days of my life," he added, but not just baseball reasons.
"My band had a tryout that day, but the time of my hitting session was at the exact same time. However, about a half-hour later, my band's time was also changed, so I just barely had enough time to do both."
Following two hours of swinging the bat, he scrambled to arrive at the club, with his group — Beyond My Afterlife — already into its first song.
"I just jumped on stage and singing as loud as I could, just as though that's what I was supposed to do," said the lead singer. "It also worked out great."
In his heart, Gonzales, now 22, knew baseball was his first choice. He hopes he can now write a song boasting about his trek to baseball's "show" before giving show business a try.
"There are ways to get there, but Hank didn't take any of them," said Stars manager Mickey Deutschman, who is in his 37th year as owner/field manager of the Stars. "I've never quite seen it the way Hank has made it."
"He didn't have an awesome high school career, he doesn't have many numbers to show from college, but he worked and worked, then got seen by some scouts — and now he's played his last game for the Stars."
Of course, should Gonzales hit a pothole, Mickey D. would welcome him back. But as of this Tuesday, Gonzales is slated to be in the starting lineup for the Admirals.
"I heard both of their catchers were not hitting, so at least one should get released to make room for me on the roster."
Indeed, Vallejo has hitting problems behind the dish. one catcher is batting .129 while the other has just a single RBI trips to the plate.