First-place Stars maintain status quo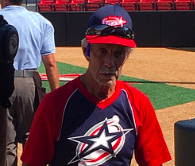 Stars manager Mickey Deutschman at Palomar College on Sunday.
2017 SAN DIEGO STARS BASEBALL
By Nick Pellegrino
Special to East County Sports
SAN MARCOS (
6-26-2017
) – The build-up in each clubhouse to
Sunday's
(June 25) doubleheader was huge, but in the end, nothing changes as the San Diego Stars and West Coast Clippers, the South Division co-leaders f the Western Baseball Association, remained even following a split of their twin bill.
The Stars romped to an early lead, then hung on for a 6-5 verdict in the opener. The host Clippers then took the second game, 14-2, in action at Palomar College. Both sides are 9-4 in WBA play, while the third-place San Diego Waves (3-2) have just two in the loss column, but need to make-up a ton of games following their week-long baseball trip to Alaska.
Jeremiah Wylie, who pitches collegiately for San Diego Christian College, is proving to be the ace of the Stars pitching staff, running his record to 3-0 in WBA play. He fired eight solid innings by allowing just one earned run, but when he got in trouble in the 9th inning, Stars newcomer Boomer Payton had just enough out of the bullpen to register his first career save.
Right-fielder Dallas Seidel, the Stars' summer-long batting leader (.489), temporarily pushed his stroke to .500 with hits in his first two trips to the plate.
Following a base hit by Michael Stowers to open the contest, Seidel drilled a 2-run home run for the quick lead. It was his second HR of the summer, moving him just one behind club leader Shane Coleman.
An innings later, Seidel answered with a 2-run double, giving him all four RBI in a 4-0 lead.
In the 8th, Michael Byerline sent a drive down the left-field line which stayed fair for another 2-run homer for the Stars and a 6-1 lead before the pitching staff, badly leaking oil, hung in in the 9th. Byerline and third baseman Joey Krug each posted a pair of hits for the Stars.
In Game 2, the Clippers eventually won by run rule to again forge a deadlock between the clubs. San Diego (13-4 overall) captured the season series, 3-1, should a tie-breaker become necessary.
The Stars return to action
Thursday
, heading to Escondido High for a game with the Waves. Game time is listed at both
5 and 6 p.m.
, so check for updates this week on the actual starting time.