Stars sweep Reign, winners of 12-of-13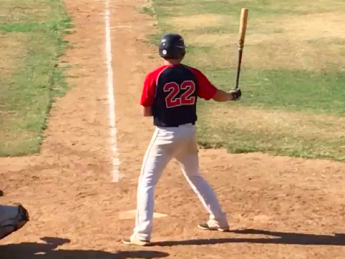 Jeremiah Barr at the plate on Saturday.
2017 SAN DIEGO STARS BASEBALL


By Nick Pellegrino
Special to East County Sports


BARONA INDIAN RESERVATION (6-25-2017) – With two free games to try out new talent and allow some reserves to gain valuable playing time, the San Diego Stars continued to maintain their winning ways.
On Saturday
(June 24), the Stars shook off some occasional sloppy play on defense to sweep a doubleheader from the San Diego Reign, 8-3 and 11-10 in walk-off fashion, at Stars Field in non-league action.
Joining the cast of heroes is recent newcomer Hunter Markel, who lined a game-winning single to left to take the second contest. The middle infielder lined a sharp base hit to score pinch-runner Jeremiah Wiley, capping a 3-for-5 performance with included a run and two RBI.
The red-hot Stars have now captured 12 of their last 13 outings.
Markle recently completed a luke-warm junior year at El Capitan High, yet with adjustments by Stars owner/field manager Mickey Deutschman,, seems to be fitting right in against the higher caliber of competition.
Obviously pleased, Markle called on some his high school teammates with the Vaqueros, many of whom seem to be "getting fixed" and turning heads among the scouts in attendance.
Plus, there was also the summer debut of former Bonita Vista High pitcher Alex Verdugo.
Long ago signed to play collegiately for Long Beach State, the future Dirtbag right-hander dominated the Reign over his scheduled three innings of work. He struck out five batters.
Verdugo should nicely fit into the rotation for the NBC Western Regional, which the Stars will co-host on
July 1-4
. The winner will automatically advance to the National Baseball Congress World Series in Wichita, Kan.
Then there was the cast from Lakeside.
Tyler Lindsay, who played shortstop for El Cap the entire season, showed up at a Stars practice. After five minutes, coach Mickey D. knew that was not a position where he could succeed.
"However, he did have a strong arm and he's smart," said the veteran skipper. "Catcher was the place for him."
Lindsay's arm was on quick display, throwing behind a Reign runner at second base for an easy pick-off. The runner tried to salvage the situation, but he was thrown out arriving at third.
"That was all they needed to know," added the coach. "They never tried running on him again."
In addition, Bailey Roberson made the club as a pitcher, while Landon Strang, a June graduate of Serra High, batted 2-for-3 off the bench and driving home a pair of runs.
In the opener. Shane Coleman started a 6-ruin rally in the 3rd with a solo homer, his club-leading third of the summer. Coleman batted 2-for-3, plus a sacrifice fly to finish with two RBI.
Stars pitchers Michael Byerline and Shawn Knutson combined to not allow an earned run in a 5-hitter.
Byerline struck out nine batters over six innings fore the victory. Knutson tossed the final three frames for his first-ever save.
Byerline also collected two hits, along with Ryan Culp and Jeremiah Barr.
The Stars return to WBA action on Sunday in the battle for first place with the West Coast Clippers. The doubleheader from Palomar College starts at
noon
, The Stars  (12-3 overall) lead WCC by a half-game in the South Division standings.