CDO stars shine bright in spotlight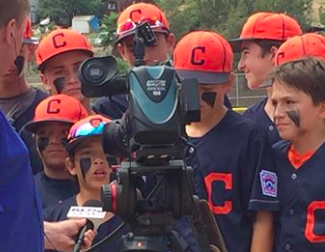 The Cajon de Oro All-Stars are interviewed following their victory on Sunday.
2017 EAST COUNTY LITTLE LEAGUE 10-12 ALL-STARS
SPRING VALLEY – Cajon de Oro Little League remained alive on the road to Williamsport, knocking out fellow East County foe Spring Valley, 12-1, in a Section 7 elimination game on Sunday.
LUKE WEST hit a two-run home run in the fourth inning for visiting CDO, while teammate TATE CLAPHAM added a grand slam in the fifth inning, as CDO would end the game in that frame via run rule.
Cajon de Oro advances in the loser's bracket to face Brawley in the elimination final on Tuesday at SVLL at 6 p.m.
The winner will face juggernaut Eastlake, which rolled to a second-consecutive victory at the section event earlier on Sunday with a 12-0 smashing of Brawley.
Should CDO take down Brawley, a rematch with Eastlake would take place on Thursday at SVLL.
CDO already got a taste of this year's version of Blue Bomber power in an 8-0 loss in a first-round matchup.
Avid Little League observers see this year's Eastlake squad as a likely favorite to at least reach San Bernardino, if not beyond, as District 42 continues to produce a contending squad for the world title almost every year.
Brawley, meanwhile, sent host SVLL to the loser's bracket with a tournament-opening 12-1 win in an earlier first-round matchup.