Stars shine, win again at WBA ASG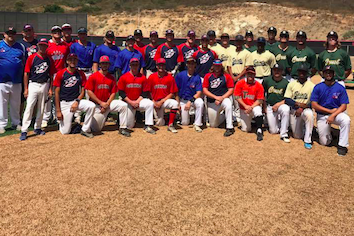 2017 Western Baseball Association All-Stars
2017 SAN DIEGO STARS BASEBALL
By Nick Pellegrino
Special to East County Sports
SAN MARCOS (
7-16-2017
) – Guided by the San Diego Stars coaching staff of Mickey Deutschman and Mike Butterfield, six members of the Stars came out on the winning side at the annual Western Baseball Association All-Star Game, held
Saturday
(July 15) afternoon at Vetter Field. The squad designated as the home American squad toppled the National ballclub, 11-3.
Stars first baseman Shane Coleman, who formerly played at nearby CSU San Marcos, was among three nominees for player of the game honors. Coleman slugged a 2-run, game-tying double in the 6th inning, when the American squad posted a 7-run rally, turning a 3-1 deficit into an 8-3 cushion.
The outburst was capped on an RBI single by Stars catcher Hank Gonzalez.
Dallas Seidel gained a starting berth in right field and batted second. He slugged a double and walked twice to also gain the list of finalists on offense. However, the plaque went to the losing side as right fielder Riley Carroll of the Inland Empire Golden Bears of San Bernardino won thanks to a pair of doubles, an RBI and a run scored.
Coleman, Austin Seidel and Jeremiah Wylie each pitched scone oreless/hitless inning in representing the Stars. However, the pitching of the game award went to Brent Jones of the San Diego (Poway) Crush. Jones registered three strikeouts and equaled the best mark on the radar gun at 90 miles per hour.
Following single runs by the National squad in the 1st and 4rd innings, Dallas Seidel answered in the home-half of the 3rd. His sailing drive to left-center field split the outfielders for his double. Moments later, he came home on a basehit by San Diego (North County) Waves first baseman Laurington Williams.
After the Nationals pated its final run in the 6th, the Americans exploded. A leadoff walk to Stars third baseman Joey Krug was followed by a double, then a walk to load the bases. With no outs, Coleman dropped a basehit in front of the center fielder to make it 3-all.
A franchise record-tying six San Diego Stars participated in the exhibition.