Stars-studded: Stars end with power surge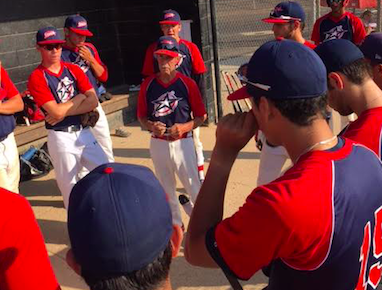 Stars owner/field manager Mickey Deutschman speaks to his club.
2017 SAN DIEGO STARS BASEBALL

By Nick Pellegrino

SAN CLEMENTE (7-24-2017) —
Featuring a long list of heroes, the San Diego Stars swept their final doubleheader of the summer season, bombing the Southern California Stars (of Orange County), 10-4 and 15-0, in Western Baseball Association action.
Stars pitcher Michael Byerline equaled a season-high with nine strikeouts in a complete-game effort in the opener. He was backed by a tie-breaking, 3-run homer by Ryan Culp for a 5-2 lead, then three other Stars – Eric De La Rosa, Dallas Seidel and Joey Krug – all homered in the 7th inning in the club's biggest power display of the summer.
In Game 2, Michael Wylie tossed the first five innings in a whitewash of the hosts. The contest was called after seven innings. De La Rosa and Hank Gonzales added one inning each in their first outings on the mound this season, capping the ballclub's initial shutout, too.
San Diego was not informed that the games were moved from San Juan Capistrano to San Clemente until just an hour before first pitch, giving the team limited warm-up time. Throw in the fact that umpires arrived for this match-up (none were available for the teams' first encounter on Father's Day) all didn't seem to matter, as the Stars out-scored the WBA expansion team by a 39-4 composite count to sweep the summer series.
And they also owe San Diego one more game which needs to be played as the Stars now hold inside position for second place in the South Division, which means qualifying for the WBA playoff to earn a playoff berth to the NBC World Series in Wichita, Kan.
"We even offered to play the game up here, even though it's our home game," said Stars owner/ field manager Mickey Deutschman. "We' would travel and we would also pay all expenses for umpires, too because we really need to make-up our unplayed games."
Game 1
Down 2-1 through four innings, the Stars answered with four runs in the 5th, then five more markers in the 7th to grab control.
Following a game-tying basehit by Hank Gonzales, Culp followed with a booming, 3-run homer to left to secure the lead for keeps at 5-2.
Then in the 7th, it was a parade of line drives to decimate the pitching of the Southern California Stars.
Catcher Tyler Lindsay smashed a single to left, Shawn Knutson walked, then the power followed.
Mired in a 1-for-14 slump, De La Rosa rocketed a 3-run homer to left field.
"I know I was 0-for-whatever, but I've been hitting the ball – I only had something like two strikeouts," noted De La Rosa. "I got this one in the air and I knew it was gone the moment I swung the bat."
Dallas Seidel with a deep drive to right field for back-to-back jacks. It was Seidel's fifth homer of the summer, grabbing a share of the club lead with Shane Coleman,
Hunter Markel accepted one of his two walks, then Joey Krug sent a line out to left, giving the Stars their third homer in four at-bats.  Krug, who also added a sacrifice fly to drive in his third run all-but-clinched the club's RBI title with the blast. He finished the day at 26 RBI, while also 
leading the Stars in runs (24) and doubles (10).
Krug, Knutson and Alekjander De La Cruz each registered two base hits in the contest.
Meanwhile, Byerline looked focused and determined after getting pulled in a recent relief
appearance.
"I tell any player they can talk to me about any issue – obviously, he didn't think he should've been yanked," said Mickey D., who gave Byerline the start just two days following a rocky relief effort. "He has the physical tools. When he gets the mental side down, he could become a pretty good pitcher for Sonoma State."
Game 2
San Diego pitched yielded just three hits in tossing the ballclub's first shutout since 2015, when they blanked the San Diego Mavericks, 11-0, at Alliant International.
The contest was called after seven innings by run rule — although there is no such rule in WBA play — but it was 15-0 anyway, so the umpire called it a day.
Seven runs in the 3rd tucked this victory to bed early. The big blow was a bases-loaded triple by De La Rosa, bring home Gonzales, Aaron Barkley and Valdez. Moments later, De La Rosa scored on a wild pitch.
Gonzales also drove n three runs, as the bottom half (5-thru-9) of the Stars batting order combined to go 10-for-20 with eight runs and six RBI
Among them, Barkley, Jeremiah Barr and De La Cruz registered doubles.