"J-Barr" returns to help Stars sweep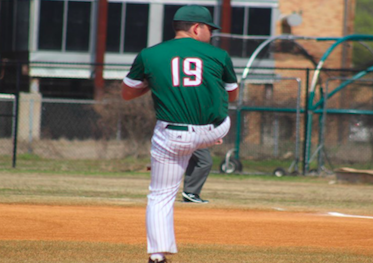 JEREMIAH BARR DELIVERS FOR MISSISSIPPI VALLEY STATE THIS PAST SEASON.
2018 SAN DIEGO STARS BASEBALL
Special to East County Sports.com
SANTEE (6-3-2018) – The 2018 collegiate baseball season was not one to remember for former West Hills High and Grossmont College standout JEREMIAH BARR.  Landing an NCAA Division I scholarship at Mississippi Valley State, "J-Barr" only managed a 1-4 record in his first season with the Delta Devils.
It was a complete turnaround from his days in San Diego County, when he helped the Wolf Pack post their best record in school history in '16, then capturing the CCCAA state championship in '17 while pitching for the Griffins.
However, in Saturday's (June 2) return to his high school alma mater, everything seems back in order for Barr.
In a doubleheader that saw the San Diego Stars open the summer collegiate season with a sweep of
the San Diego Mavericks, 12-3 and 6-4 at Wolf Pack Park, Barr utilized his arm and bat to key both triumphs.
In Game 1, Barr might need to alter his "J-Barr" moniker to "K-Barr" by striking out the first five Mavericks batters he faced, gaining the pitching win in relief. He nearly made it six in-a-row, but a close 3-2 pitcher was ruled just outside for a walk, but he retired the next batter on a weak grounder for a fielder's choice at second base in his two innings of domination.
In Game 2, the Stars blew a 3-0 lead and were trailing 4-3 heading into the 9th inning. However, the first three batters reached base, then J-Barr gained the equalizer with a sacrifice fly to center field to knot the ballgame.
Johnny Valdez reloaded the bases with a walk, then Shane Coleman drove in the go-ahead and eventual game-winner on a fielder's choice that was booted for an error that also allowed a bonus run to score.
Coleman also collected the save by pitching the bottom of the 9th, yielding a bloop single to lead off before mowing down the next three Mavericks.
However, the post-game talk centered around J-Barr, who quickly returned to form following nine months in the Magnolia State.
J-Barr pitched like he never left San Diego," said Mickey Deutschman, who is celebrating his coral (35th) season as owner/manager of the Stars. "Sometimes, leaving home to go out-of-state to attend college can be rough, but coming back even for just the summer will definitely improve his play when he returns to Mississippi Valley State in the fall."
While his pitching was impressive, Barr also demonstrated that he remembers how to swing the bat, too.
"He did nothing special except to keep both hands on the bat and lifting the ball to the outfield, allowing the run to score," the skipper added. "We needed to get the run in to extend the game and J-Barr was 'team first' all the way."
Other highlights included a 3-run homer by right-fielder Dallas Seidel, who drilled a 3-0 pitch over the head of his defensive counterpart in the 6th to push the advantage to 10-3. Seidel, the ballclub's elder statesman, call drove in a run in the 3rd as part of a 4-RBI performance.An inning later, JOEY KRUG tied the game with a run-scoring single to send Ryan Culp home, then Krug scored the go-ahead marker on a 2-run single by Stars newcomer JASON VILLASANA, who batted .308 for West Hills as a senior in 2017 before gray-shirting at San Diego City College this past spring.
Krug also belted an RBI double in the second game of the season-opening, 13-game homestand for the Stars (2-0).
Both clubs will faceoff on Tuesday and Thursday at 5 p.m., again at West Hills High, with the official opening of Western Baseball Association action.