Braves ready to conquer early tests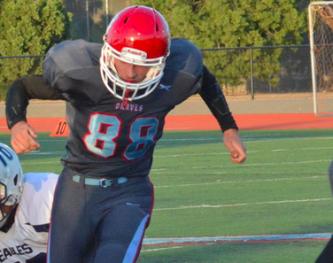 El Cajon Valley senior DANIEL WILSON
2017 EAST COUNTY PREP FOOTBALL – PREVIEW
EL CAJON VALLEY BRAVES
By Ramon Scott
EastCountySports.com
EL CAJON – Nine starters return from last year's El Cajon Valley team that blitzed through its first five non-league foes en route to a thrilling undefeated start.
Playing against teams of its own caliber, the Braves darted and dashed to terrific wins against three of those opponents that are also on this year's early slate.
By the time the rigors of the combatant-lopsided Grossmont Valley season rolled around, the Braves entered the playoffs on a demoralizing five-game losing streak.
But they had a big chance to rectify the score in a playoff opener against Serra before a near-miracle comeback fell short in a thriller, 24-22, on Madison Ave.
This year's Braves returnees don't have to wait until the postseason for another shot at the Conquistadors.
El Cajon Valley opens its season in Tierrasanta on Opening Night.
One of those likely pointing to the season opener is senior running back/linebacker MAQUEL GARNER (5-10, 190).
Garner is surely the star of this group on offense off his 595-yard output last season, including six touchdowns.
Meanwhile, the leading defensive standout is senior outside linebacker DANIEL WILSON (5-10, 185).
Wilson had 44 tackles last season and four sacks. He also lines up at tight end.
"We've got a good, dedicated group of about two dozen varsity players," El Cajon Valley coach PARRIS PISIONA said.
While turnout was low even by Braves' standards, the defense seemed to suffer less of a blow.
El Cajon Valley has several players that had significant roles on last year's defense that really saddled up to those comparable opponents.
Senior outside linebacker/fullback PAULO MICHEL (5-11, 180) had 42 tackles last season, including a pair of sacks.
OMAR MAHMOUD, a 5-foot-10, 210-pound senior middle linebacker and fullback, had 29 tackles last season.
"Our defensive coordinator has been great with all the new schemes he has come up with this year," Mahmoud said. "I want people to know this is going to be a strong season. We're going to fight all the way."
Senior middle linebacker/tight end MICHAEL MALONE had 21 tackles last season, while senior safety/wide receiver ISAAC BLAKE had 12 tackles in 2016.
Senior defensive end JOSE GONZALEZ (5-8, 165) had 15 tackles last season, while senior middle linebacker JONATHAN ISLAS and junior outside linebacker KEVIN TY bring experience from last year's unit.
Senior defensive tackle MOSE KALEUATI (6-2, 265) is an anchor on both sides of the line.
Junior center ANDRE ROBLES is busy learning from a new set of hands after the departure of last year's star quarterback TYSON SMITH.
The Braves are apparently considering between 5-foot-9, 155-pound junior DEANDRE KELMON, who rushed the ball 20 times last season, and junior CHALANG AHMAD.
Senior running back RONALD HULLUM (5-9, 164) also had 20 carries last season.
Junior wide receiver/linebacker BRANDON ROBINSON (5-11, 165) caught four passes, including one for a touchdown last season.
Protection is also provided by the presence of 6-foot-6, 315-pound junior MASON TILEIA, who is easy to spot, but sometimes hard to find, as well as, senior DANAR ALI.
El Cajon Valley coach PARRIS PISIONA is in his third year (10-12 overall).
The Braves, despite the obvious uphill climb in the Grossmont Valley League, are serious contenders for a playoff spot in Division 4. That's what makes D4 rival Serra such an important game early.
The three teams that El Cajon Valley beat last season which they will meet again early this season are Kearny, Clairemont (home opener, Sept. 8) and Crawford.
The Braves replaced Montgomery to this year's non-league slate with fellow D4 foe Sweetwater, another crucial early non-league contest, which will be played at home.