New-look Pack on track for success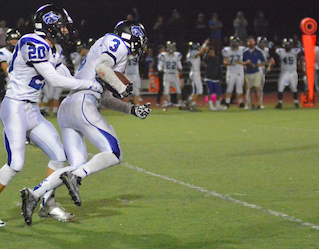 West Hills' Ryan Jewell (3) and Noah Quigley.
2017 EAST COUNTY PREP FOOTBALL – PREVIEW
WEST HILLS WOLF PACK
By Ramon Scott
EastCountySports.com
SANTEE – Opposing programs in the Grossmont Hills League already know that the West Hills Wolf Pack is not a team to be taken lightly in 2017 and beyond.
After all, the Wolf Pack junior varsity shared the league title last season with a 4-0-1 record, including a wild 14-14 tie against co-champ Helix in Santee last Oct., while going 9-0-1 overall, behind a defense that allowed just 12.5 points per game.
That's not to say West Hills is primed and ready to surpass those staunch league foes at the next level, but after losing several key seniors from last year's 5-6 (1-4 GHL) club, the blue wave of winners are starting to arrive on the varsity and have already had a big taste of success.
A player worthy of looking up to is senior defensive end/offensive tackle RYAN HALLAHAN.
The 6-foot-3, 225-pounder was an honorable mention All-Grossmont Hills League performer last season for his work on defense. He'll be asked to help out up front on offense at right tackle, as well, this season.
Another senior gem on both sides of the ball will be wide receiver/free safety RYAN JEWELL.
The 6-foot-1, 165-pound speedster had 22 catches and three touchdowns last season. A true ball hawk, he also picked off two passes on defense and is likely to handle most of the return chores.
"It's looking good, things are really starting to come together," Jewell said. "Some younger guys are beginning to step up in the positions we need them to be in.
"Don't sleep on us, we're really mentally disciplined and we're ready to come out and fight."
Senior RYAN CLARK (5-10, 220), who established himself as a solid offensive guard last season, will also play on the other side this year at defensive tackle.
6-foot, 195-pound senior middle linebacker/offensive tackle ZACH BELL:
You don't go undefeated at any level without strong leadership at quarterback and that's where junior JORDIN YOUNG steps in.
Young was spectacular with his throwing and running, especially on gadget and misdirection plays. The Wolf Pack's JV averaged 31.4 points per game last season.
"I have a lot of faith in Jordin," West Hills coach CASEY ASH said. "He has some good experience because out junior varsity does the same stuff we do up here. This may be the way it was going to end up with Jordin getting all of the reps."
A few of the Wolf Pack's offensive threats remain despite some those key departures, including senior slot back AUSTIN DILL (5-7, 145), who carried 16 times for 130 yards and two TDs, while also rushing for a score, as well.
"As a team, we are stronger physically than we have been over the past couple of years," Dill said. "We have a new weightlifting coach and it's helping us out a lot."
Senior slot/strong safety RICKY WILSON (5-11, 165) rushed for a touchdown last season.
Senior specialist CADE WEAVER (6-foot, 155) is not just one of the most experienced returning kickers in the East County (three FGM, missed just one PAT), but he also hauled in four passes and a TD last season.
Junior slot/corner TRAVIS DEAL (5-6, 125), senior OLB/slot PEDRO LOZANO (5-8, 150) and senior corner/receiver NOAH QUIGLEY (5-10, 165) return to the varsity.
Senior LUCAS AH KEY returns to the middle of the line, as well, including returning as starting nose guard
As far as the confident reinforcements are concerned, junior varsity stars REESE WILTGEN and ALEX LEGGATE lead the group of experienced champions.
Some of those joining the varsity from that team include linebackers HUNTER GAUTHIER and ANTHONY MASTERS, center NATHAN JONES, guard GIANNI GRIMM, wide receiver BRYCEN WILLIAMS and defensive end DANIEL JOHNSON.
West Hills hosts Southwest (El Centro) in the season opener Aug. 25, then gets the City Championship game at home against Santana.
The Wolf Pack close the non-league schedule with three-straight road games at Mission Bay, at Mount Miguel and at Serra before getting into the Hills grind.
"As far as our community is concerned, Santana is our big rival," Ash said. "But I think El Capitan is in a somewhat similar spot as us, so that has kind of developed into the teams' rival over the last four-to-eight years.
Among the aesthetic differences at the West Santee campus this season include a new two-tone blue playing surface, as well as, an all-new weight room and fresh new adidas jerseys
Footballers getting their first look at the new weight room.@WestHillsASB #whfbfreshnclean pic.twitter.com/lJPpoSkAW6

— Coach Ash (@whfbcoach) April 26, 2017
The Wolf Pack would seem to be in position to fight for a postseason berth in Division 2, but just a slight improvement over last year's mark would greatly improve their chances for the playoffs in 2017.