Red Hawks flying high behind vets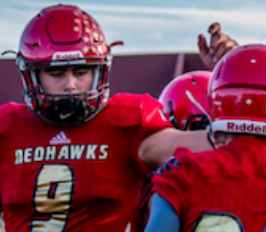 Mountain Empire's CAMERON WILL.
2017 EAST COUNTY PREP FOOTBALL  – PREVIEW
MOUNTAIN EMPIRE RED HAWKS
By David Dickens
PINE VALLEY (8-16-2017) – The Redhawks from Mountain Empire are fired up and ready for a much improved 2017 season led by a ferocious and hungry defense and senior linebacker BLAKE JARRELL.
Jarell posted an impressive 109 total tackles, including 74 solo, 1 pick and a blocked field goal in 2016.
He also earned defensive player of the game honors for Mtn. Empire in games during September and October of last year.
He should also have a breakout year without the worry of torn ligaments in his ankle.
"I think my biggest strength is my ability to locate the ball and make the tackle, while needing to improve on my quickness," Jarrell said.
Jarrell will be leading this hard-working mixture of two seniors and two juniors to hopefully create turnovers and keep their offense fresh.
"I don't plan on ever leaving the field," Jarrell said.
Three-year starter WR WYATT MANN is also ready for a breakout year after suffering a broken ankle last season.
That sidelined the sure-handed senior for 5 games. In 5 games he participated in, the 5-foot-9, 175 -pound receiver hauled in 13 receptions for 191 yards, averaging almost 15 yards a catch and 3 touchdowns.
It remains to be seen if his youthful offensive line and junior quarterback GABRIEL HYDORN can gel with the receiver.
"Gabe does know how to roll out of the pocket and is a great runner," Mann said.
The Redhawks host a non-conference scrimmage this Friday the 18th
"The scrimmage against a great team like Montgomery will show us where we have improved and what we need to work on," Mountain Empire coach BERNARD VANN said.
"It should be a lot of fun against Montgomery as their skipper and I were in the military together."
In just his third year as the coach, the Redhawks were are 7-13 under his direction, finishing 4-6 overall and 1-3 in league play last year.
The big rival every year, Holtville.
"That is a bad word around our place." said Jarrell.
"I created a comparison, Holtville versus Mountain Empire like an Ohio State versus Michigan type atmosphere and because of the rivalry we travel heavy with our fans," Vann said.
"I learned from coach TROY STARR when I was coaching at Helix, If we do what we are supposed to do, we will win."
The coach also went on to say he wants to get better, so he requested a bigger, more competitive San Ysidro team to play so they can get to the next level.
The Red Hawks should finish at the top of the Manzanita League if they stay healthy, but definitely will be much improved over the 2016 squad. As long as they win the turnover battle this team
As long as they win the turnover battle this team should be tough this year.
NOTABLE
This is the first year that Pine Valley will have a youth football league, started up with the assistance of Mountain Empire coach Vann.