Foothillers retune fine machinery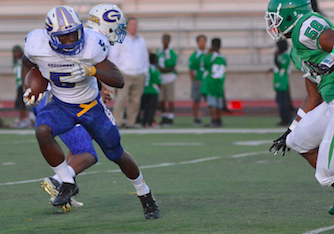 Grossmont's Shevell Sterling
2017 EAST COUNTY PREP FOOTBALL – PREVIEW
GROSSMONT FOOTHILLERS
By Ramon Scott
EastCountySports.com
EL CAJON – The Grossmont Foothillers are rarely caught looking past an opponent.
That's because the Hillers' schedule is usually so tough, they can't afford to.
So what does coach TOM KARLO (6th year, 40-18 at Grossmont) and the Grossmont High staff go out and do following a 9-1 regular season and a "Game of the Century"-style loss to Mission Hills after qualifying fourth in the Open Division playoffs last season?
How about add the likes of division state title runner-up Bishop's and Southern Section Freeway League champ Buena Park.
The Foothillers have record-setting shoes to fill in its passing game, but retain offensive threats in JOSH MOALA, a 6-foot, 175-pound wide receiver, and SHEVELL STERLING, a 5-10, 195-pound senior running back.
Sterling rushed for a team-high 787 rushing yards and scored six touchdowns last season, being named a second team All-East County selection, while Moala caught 30 passes for 316 yards and two scores.
Senior DYLAN SMITH (6-foot, 160) saw duty in five games behind center last year, throwing 13 passes, and is in contention for the starting gig with sophomore JAMIE ODOM (6-2, 185).
Six-foot, 195-pound senior ZACH JONES, a wide receiver/defensive back who caught 18 passes and two touchdowns last season, returns.
Also look for wide receivers THOMAS MANGUM (5-7, 135) and DESMOND CARTER (5-6, 160), both juniors, to get an opportunity to get into the starting lineup, as well.
NICK GHOSN, a 6-foot-1, 215-pound senior, leads the offensive line.
Stars still abound on defense for the Hillers with first team All-Grossmont Hills League defensive back ANDREW LIRA and secondary mate JOE WILLIAMS, who was an honorable mention all-league performer last season.
Lira, a 6-foot, 165-pound senior, had 64 solo tackles last season, three interceptions, seven passes defended and four fumble recoveries.
He also was the team's only punt returner last year, averaging 10 yards per return.
Williams, a 6-foot-2 170-pounder, had 54 tackles and three sacks last season.
NOAH CRESS, a senior, joins them in the secondary as a starting cornerback.
Senior JULIAN SANDERLIN returns on the defensive line after making 37 tackles and forcing two fumbles last season.
Sanderlin will be joined by COOPER ZOELLNER (6-1, 240) and junior JOSEPH TOLEDO (6-2, 240) on the defensive front.
Senior DAISEAN CRAWFORD, a 5-10, 185-pounder, had 29 tackles last season and leads the linebackers.
Grossmont's placekicker is senior AMBER HUFF, the sister former Foothiller kicker BRITTANY HUFF.
Grossmont does itself no favors scheduling up and this year is no exception.
Another strong campaign would land the Foothillers in the section's elite playoff group once again. If not, they are an obvious contender for the Division I championship.
On the local front, Helix has stood in the way of the Foothillers' progress for several generations, but Grossmont will have the home-field advantage in the battle for The Musket in 2017. The Hillers play three of their five GHL games on the road.