Eagles flock behind nucleus of leaders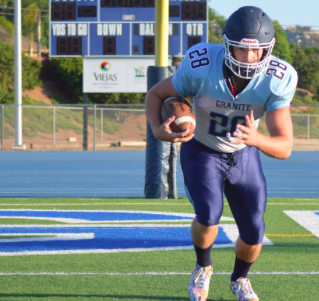 Granite Hills' DAVID TYLER GONZALEZ / SDFNL Magazine photo
2017 EAST COUNTY PREP FOOTBALL – PREVIEW
GRANITE HILLS EAGLES
By Ramon Scott
EastCountySports.com
EL CAJON – The Granite Hills Eagles will likely do what few teams in the state can attest to this season.
The Eagles could line up with three Division I prospects on their defensive line at one time.
Between senior stars TYLER GONZALEZ, WILLIAM BURTON and GARRETT CURRAN, Granite Hills would have a pass rush few teams could successfully defend.
Gonzalez, a 6-foot-3, 230-pounder, could see a rapid rise in interest from programs in 2018, as Sacremento State has already shown interest.
Already coming off a monster year with 13 sacks and 95 tackles to earn first team All-East County honors, he also moves into the offensive backfield this season.
Burton is a 6-foot-6, 290-pound two-way threat is getting attention from Washington, UCLA Oregon State, Utah, Wyoming, and several others. He lines up as a defensive end, but could be well-suited on the next level as a tight end, as well.
Burton, a first-team All-Grossmont Valley League standout last season, was recently selected to play in the Blue-Gray All-American Bowl on January 22, at AT&T Stadium in Dallas, Texas.
Curran, is the 6-foot-6, 290-pound offensive line star that has grabbed offers or attention from the likes of Arizona, Washington State, New Mexico, Boise State, Hawaii, UC Davis, and Utah State.
He was a first-team All-East County choice in 2016.
Numbers are never a problem at Granite, which is a good thing this season, as the departing starters from last season depleted the returning ranks.
Senior quarterback JAKE SIEGFRIED has had great success as the Eagles quarterback, including garnering the Grossmont Valley League Co-Player of the Year last season.
Siegfried is a dual-threat, throwing for over 1,800 yards and rushing for 900 more last season.
More incredibly, he accounted for 27 touchdowns on offense last season, throwing for 15 scores and rushing for 12 more. He averaged more than 225 yards of total offense per game.
Senior SETH ALLISTER joins Gonzalez as a rushing threat, as the pair combined for over 500 yards rushing last campaign.
6-foot-1, 225-pound senior EVAN DENNEY helps shore up the depleted offensive front.
Defensively, besides the three-pronged assault up front, linebackers ZOSETH CUERO (6-1, 215, soph.) and NOAH ESPINOZA (5-11, 215, jr.), along with defensive backs BRIAN SMITH (5-10, 155, jr.) and AARON MACHADO (5-11, 160, jr.), are expected to help replenish the squad.
Senior CHRIS OSTRENG, a backup QB, has varsity place-kicking experience.
Granite Hills is the two-time defending champion of the Grossmont Valley League under the leadership of coach KELLAN COBBS (6th year, 33-27 overall).
The Eagles lost in the quarterfinals of the CIF Division 2 playoffs at Olympian last season.
The Eagles open with familiar foe San Pasqual on the road. The teams met twice last season, with Granite winning both meetings, including a first-round playoff matchup.
Granite Hills should be considered a CIF championship contender in Division 2 and could easily find itself matched up with a fellow East County foe in a playoff setting.