Hawks' men, women sweep Firebirds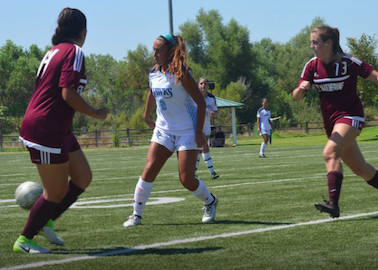 Senior Sofia Montes (2), out of Valhalla High, waits for a pass on Tuesday in Santee.
2017 SAN DIEGO CHRISTIAN HAWKS MEN'S SOCCER
Special to EastCountySports.com
SANTEE  — After a 1-goal first half, the San Diego Christian men's soccer team and Saint Katherine scored a combined five in the second half.
Fortunately for the Hawks, they were on the winning end of a 4-2 game for their first win of the season.
With the win, SDC improves to 1-1 while the loss drops the Firebirds to 0-2.
ADRIAN BARAJAS scored in the 16th minute to give the Hawks the lead.
The two teams were even in shots attempted and saves in the first 45 minutes with three and one respectively.
In the 48th minute, CHRISTIAN GARCIA found NICHOLAS DUARTE to increase SDC's lead to 2-0. JUAN DAVID-ARRIETA scored off a free-kick in the 70th minute to give the Hawks full control at the time.
But the Firebirds mounted a comeback scoring in the 76th minute and 83rd to cut their deficit down to one.
PATRIK BORCHMANN eliminated any late tie chances with a goal with 30 seconds remaining to seal the 4-2 win.
Five different players attempted shots for the Hawks. LIONEL OLMEDO led the team with two.
ZACHARY SUTTON played the full 90 minutes collecting three saves.
SDC will wait for nine days util they get back on the field. They will host La Sierra at 1 p.m.
---
2017 SAN DIEGO CHRISTIAN HAWKS WOMEN'S SOCCER
SANTEE — KRISTEN FOWBLE scored a hat-trick and ALISSA MUNGUIA added two as the SDC women's soccer team defeated Saint Katherine 9-0 on Tuesday.
With the win, the Hawks moved to 2-0 on the season. With the loss, the Firebirds fall to 0-2.
Munguia quickly got the Hawks on the board with a goal in the third minute off a pass from VIENNA ROUSSET. Fowble scored her first of the game in the 13th minute and Munguia capped the first half scoring with a goal in the 20th.
SDC outshot Saint Katherine 16-2 in the first half.
The Hawks fired out of the gate in the second half, just like the first. SERRA COLLINS added her second goal of the season and Fowble added her second of the game, both off passes from Rosset, who tallied three in the game. Fowble scored her third in the 85th minute and AILEENA MORENO added the ninth and last goal of the game.
SHELBI HORNER and SANDRA RIVAS shared the shutout for the second consecutive game. Both goalies were untested as neither collected a save.
SDC will have a 9-day break before their next match against Ottawa University-Arizona on Thursday Aug. 31.