Vaqueros, Patriots win, meet Tuesday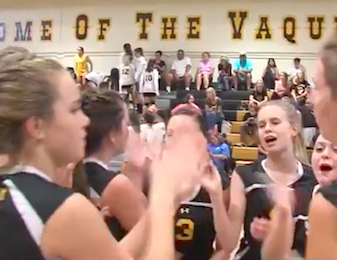 El Capitan huddles Thursday night.
2017 EAST COUNTY PREP VOLLEYBALL
EastCountySports.com staff report
LAKESIDE – STEPHANIE ADAMS and AUDREY TUCKER led El Capitan to a five-game win over Serra in the season opener for both teams on Thursday evening.
El Capitan next faces Christian on Tuesday at 5:30 at Ryan Center.
Christian won their second consecutive match to open the season on Thursday, dispatching host Granite Hills, 25-17, 25-13, 15-12.
Meanwhile, on Wednesday, Grossmont took down host Steele Canyon in three, 25-9, 25-20, 19-25, 25-19, behind 18 kills from junior MEGAN COLLANTES.
Junior KENNEDY DIRKES led Grossmont with seven aces, while senior teammate KELLI SCOTT added 13 blocks.
---
Patriots open with win over Sultans
EastCountySports.com staff report
SANTEE – The Christian Patriots defeated the Santana Sultans, 25-12, 25-23 and 25-7 in a non-league match at the Sultans' gym to open the 2017 volleyball season Tuesday night.
LAUREL BEEZER had four blocks to lead the Patriots, while the Sultans were led by senior TARALIN SHAWCROFT.
Santana hosts Patrick Henry on Thursday at 5:30, while the Patriots face Granite Hills at the Eagles' gym on Thursday, also at 5:30 p.m.
El Cajon Valley swept by Victory Christian Academy, 25-11, 25-10, 25-19.
Junior outside hitter Ayannah Wright led the Braves with 8 kills, while senior setter Virginia Morales dished out 14 assists. Senior Andrea Velasquez led with five digs.
Elsewhere, Mount Miguel outlasted Liberty Charter in an East County matchup, 25-23, 27-25, 25-17, 24-22.