Foothillers slow Allen's Knights, but are kept in check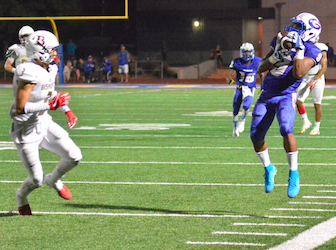 Grossmont junior Desmond Carter comes down with a reception against Bishop's Friday night. / photo by Ramon Scott
2017 EAST COUNTY PREP FOOTBALL
BISHOP'S 22, GROSSMONT 13
By Jim Lindgren
Special to EastCountySports.com
LA MESA – At the beginning of this millennium, Joel Allen lit up scoreboards and rewrote record books as a star quarterback at Christian High.
His 7,297 passing yards and 74 touchdown passes are both still seventh all-time in the history of the San Diego Section. He led the Patriots to a section title in 2002 and a runner-up finish in 2001.
In nine seasons as the coach at The Bishop's School in La Jolla, he is 3-2 in section title games, including beating his alma mater in last year's Division III final. The Knights' only loss in 15 games was in the State Bowl Championship game.
Allen is 32 years old. He looks as trim and in-shape as he was in high school.
Bishop's recent success – 2-1 in three straight section finals – lofted the Knights into Division II, so Allen decided to upgrade the schedule.
He made a call to Grossmont coach TOM KARLO, and they set up an opening game to the 2017 season.
Keep in mind, Grossmont went 9-2 last year with its only losses coming against Helix to decide the Grossmont Hills League title and then to perennial power Mission Hills in an epic 49-48 Open Division playoff game.
This was Bishop's first-ever game against an Open Division or Division I team.
And Allen is now 1-0 against the big boys after the Knights handed the Foothillers a 22-13 defeat on Friday night at Jack Mashin Stadium.
"It wasn't pretty, but we got it done," Allen said. "I couldn't be more proud of our guys. We battled on every play. We stepped it up and managed to pull this one out."
Karlo was equally proud of his squad, aside from three turnovers and a couple of missed opportunities on offense.
"It's one of those deals, as a wrap-up, that's two pretty good football teams. It's too bad we were on the losing end.
"We just couldn't finish a couple drives, and they made a couple of big plays.
"Turnovers and some key mistakes cost us."
Senior brothers Jeffrey and Jacob Jackson, who played for Christian as freshman before transferring to Bishop's, were the stars of the game, along with Mozes Mooney.
Jeffrey Jackson threw for 276 yards and three touchdowns, completing 21 of 36 passes without an interception.
Jacob Jackson caught 12 passes for 185 yards, including a 22-yard touchdown. Mooney nabbed eight balls for 101 yards, and he completed 2 of 2 passes for 55 yards, including a game-ending 29-yarder to Jacob Jackson on a fourth-and-7 play near the end of the game.
With Jeffrey Jackson tossing 187 yards in the first half, the Knights assumed a 22-7 halftime lead. Grossmont made some defensive adjustments at halftime and kept the Knights without a score after intermission.
The 'Hillers, however, could only muster one score in the second half, despite driving nicely on several possessions.
Grossmont's SHEVELL STERLING rushed 20 times for 93 yards, including a 2-yard touchdown run.
"Shevell ran well," Karlo said. "He's as solid as they come."
Through summer training, quarterbacks DYLAN SMITH, a senior, and JAMIE ODOM, a sophomore, paced each other equally, so Karlo decided to platoon them in the opener.
Smith started but was 0-for-2 in the first half. Odom took over in the third series and wound up 5-for-12 for 102 yards and one interception, all in the first half. He finished his first series with a 5-yard keeper touchdown scamper to give Grossmont their only lead at 7-6 late in the first quarter.
Smith handled most of the duty in the second half, completing 7 of 16 passes for 85 yards but he was intercepted twice.
The Foothillers also missed two field-goal attempts, though female kicker AMBER HUFF showed a powerful leg on both attempts.
ZACH JONES caught four passes for 62 yards. DESMOND CARTER added three receptions for 53 yards, and Sterling nabbed three balls for 41 yards.
Bishop's lost only three key starters from last year's magical season, and the Knights clicked on offense from the onset.
Jeffrey Jackson threw for 67 yards on the Knights' opening drive but an incomplete pass on fourth down from the 4-yard line turned the ball over to Grossmont.
On his third possession, Jackson hit Mooney on a remarkable 26-yard touchdown pass in which Mooney leaped over a defender to pull in the ball and managed to get his feet just inside the right sideline of the end zone to give the Knights a 6-0 lead.
Odom hit Jones on Grossmont's next play for a 27-yard gain and then Sterling on a 19-yard pickup before Odom scored on a 5-yard keeper to give the Foothillers a 7-6 lead.
Momentum seemed to swing in Grossmont's favor, but Bishop's came right back. Jackson hit Mooney for a 38-yard gain, and on the next play, Jackson lofted a perfect pass to his little brother for a 22-yard score and a 14-7 lead.
On Grossmont's next play, Jacob Jackson intercepted an Odom pass and three plays later, Jeffrey Jackson lofted a perfect pass to Mooney for a 9-yard TD and a 22-7 lead with 10:18 to play in the second quarter.
"It's not just me," Jacob Jackson said. "There were a lot of guys who contributed to the touchdown and the pick. The team as a whole played great."
Grossmont averaged 435 yards and 39 points per game last year. Bishop's was equally stellar as Jackson threw for 4,056 yards (second most in section history) and 46 touchdowns (also second) with only five interceptions in 404 attempts – which is amazing!
The Knights had two 1,000-yard junior receivers last year – Jacob Jackson (78 catches, 1,359 yards, 13 TDs) and Mooney (69-1,081-17).
Friday's game was starting to look like a high-scoring shootout from these up-tempo offenses, but there was only one other score – Sterling's TD at 7:54 of the third quarter.
"I knew they weren't going to score more than three (TDs) on us," Karlo said. "Our defense is pretty good. They had some big plays early, but we adjusted and shut them down in the second half.
"Now it's time for us to tune up on offense."
Just before halftime, Odom hit ZAK FARRIS on a 23-yard pass to extend an 11-play drive, but Huff's 38-yard field-goal attempt veered wide left of the mark.
Garth Erdossy intercepted a pass on Grossmont's first possession of the second half, but the Foothillers scored on their next drive to make it 22-13.
Nine successive drives proved fruitless, however, and that was the ballgame.
Mooney punctuated the game twice – an interception at the goal line with 4:06 to play and then a 29-yard completion on a halfback option pass on fourth down to Jacob Jackson with under a minute left.
Mozes Mooney interception for Bishop's with just over four minutes left in game… pic.twitter.com/izIkwgvbPP

— Ramon Scott (@RamonScottPoker) August 26, 2017
"We knew they were a great team," Karlo said before the game. "That's why we took the game. They have a lot of good skill guys and had a great team last year."
On defense for Grossmont, NATE SHERROD, MATT RODRIGUEZ and JULIAN SANDERLIN posted sacks. NOACH CRESS and ANDREW LIRA had fumble recoveries. ALEZ GOLOJUCH nearly had a tipped interception near midfield with 7:22 that could have given Grossmont a chance to comeback.
Grossmont plays host to Olympian (1-0) next Friday in the second of seven home games this season.
Bishop's takes on Patrick Henry (0-1) at La Jolla High.
BISHOP'S 22, GROSSMONT 13
Bishop's 6 16 0 0 – 22
Grossmont 7 0 6 0 – 13
B – Mooney 26 pass from Je.Jackson (pass failed)
G – Odom 5 run (Huff kick)
B – Ja.Jackson 22 pass from Je.Jackson (Raser run)
B – Mooney 9 pass from Je.Jackson (Raser run)
G – Sterling 2 run (run failed)