Hurricane no match for Bradley's force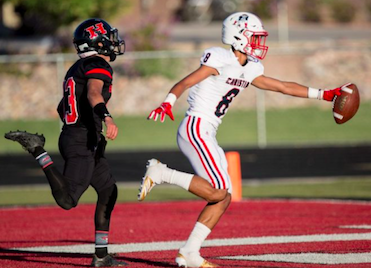 Christian's Alonzo Richardson scores a touchdown Friday night.
2017 EAST COUNTY PREP FOOTBALL
CHRISTIAN 60, HURRICANE 38
EastCountySports.com staff report
HURRICANE, Utah – Christian High senior quarterback BRADLEY JEREMIAH passed for 532 yards and seven touchdowns in the Patriots' 60-38 victory here in a season-opener Friday night.
Overall, Jeremiah accounted for eight touchdowns, as he also rushed for a score. He was 26-for-38 overall, with no interceptions.
ALEXANDER GONZALEZ was the recipient on four of the scores, as he had six overall receptions for 207 yards, including an 87-yard connection from Jeremiah.
Sophomore ALONZO RICHARDSON had eight receptions for 149 yards and two scores for the Pats, while NASHOM CARTER had seven recepts for 118 yards.
JESSE MATTHEWS had three receptions, including a score for CHS.
Hurricane did throw a bit of a problem at the Patriots, rushing for 383 yards on 58 attempts, including Jaron Cordova, who had 211 yards and two touchdowns.