McClendon, Monarchs make end zone like a vista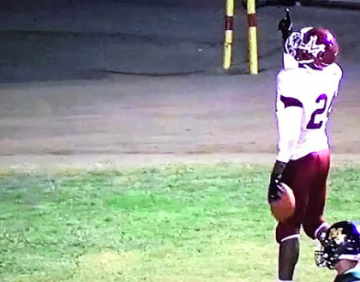 JAHMON MCCLENDON points to the sky following his 74-yard touchdown run Friday night.
2017 EAST COUNTY PREP FOOTBALL
MONTE VISTA 28, MAR VISTA 21
EastCountySports.com staff report
CHULA VISTA – Monte Vista junior JAHMON MCCLENDON scored three touchdowns in the first half and finished off Mar Vista with a decisive 74-yard score late in the third quarter as the Monarchs won their season-opener on the road in the South Bay.
McClendon had a 26-yard touchdown run in the first half to give the Monarchs a 14-7 lead.
After Mar Vista had rallied to tie again, this time 21-21, got a handoff and burst off a hole over right tackle and found running room up the seam, as he raced through the defense to get into the clear for the touchdown jaunt.
The Monarchs' defense kept the Mariners off the scoreboard for the remainder to secure the win.
McClendon's first score came from seven yards out and gave the Monarchs a 7-0 lead.
Monte Vista junior BLAKE SCHMIDT blocked a punt to set up McClendon's third score of the first half.
McClendon scored on an 11-yard run as Monte Vista led 21-7 before the Mariners mounted a two-touchdown comeback.
Overall, it was a big night for the men in front of McClendon, including juniors MARCO BARRAGAN and GERARDO ARELLANO, who led the way for their big back.
De'von Peterson ran for 28 yards for the first TD for Mar Vista, which made it 7-7.
Early in the first half, Schmidt put a helmet on the ball and ball carrier, then BRAXTON SCHULTZ jarred it loose, and the pigskin plopped in the air into the stride of TORREY SMITH, who raced 75 yards down to the Mar Vista 10.