Eagles' Saikhon flies high over Pack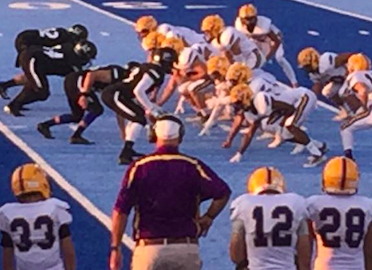 West Hills' defense lines up against Southwest (El Centro) Friday night in Santee.
2017 EAST COUNTY PREP FOOTBALL
SOUTHWEST 36, WEST HILLS 17
EastCountySports.com staff report
SANTEE – Making the long trip into the Santee, the Southwest Eagles might've seemed ripe for revenge after defeating the West Hills on a last-second field goal in the desert in last year's opener.
Instead, the visitors from El Centro picked up where they left off almost immediately, blitzing to a four-touchdown lead en route to a 36-17 win on the Wolf Pack's new blue surface.
Southwest scored early on a 19-yard touchdown reception by Grant Hansink from Cameron Jungers.
Tyler Saikhon added three-straight touchdowns for Southwest to make it 27-0.
His fifth touchdown of the night was a thing of beauty, as Saikhon scored with an acrobatic flip into the end zone over a Wolf Pack defender.
Carlos Ruiz had an interception for Southwest.
Southwest made several stops in the first half, forcing the Wolf Pack to punt.
The Wolf Pack's ALEX LEGGATE had a monster sack late in the first half.
AUSTIN DILL returned the second half kickoff 70 yards.
The Wolf Pack converted the special teams play into a 12-yard touchdown pass from JORDIN YOUNG to REESE WILTGEN.
West Hills tried to steal some momentum with a fumble recovery.
However, the ensuing possession went nowhere and the Eagles recorded a safety on a punt play to extend the lead to 29-7.
Senior LUCAS AH KEY had a sack in the second half.
The Pack got on the board once more with a 26-yard touchdown reception by RYAN JEWELL.
The Wolf Pack kept some focus on staying in the contest with the rival game against the Santana Sultans on deck.
West Hills added a field goal to cap the scoring.