Scotties start fast, finish quickly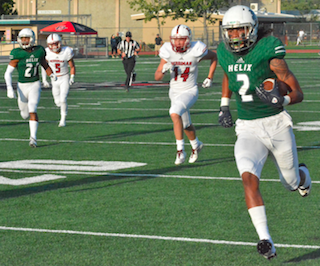 Helix's RASHAD SCOTT returns an interception for a touchdown in the first quarter Friday night at Hart Stadium. / EastCountySports photo
2017 EAST COUNTY PREP FOOTBALL
HELIX 35, HERRIMAN 0
By Ramon Scott
EastCountySports.com
LA MESA – Don't let Helix senior RASHAD SCOTT get a good night's rest before a game.
The SDSU-bound Scott, who said he didn't get much sleep on Thursday night in anticipation of the season-opener, had four interceptions, including one for a score, and a touchdown reception as a receiver as the top-ranked Highlanders throttled Utah invader Herriman, 35-0, in the season opener at Hart Stadium Friday night.
Helix's RASHAD SCOTT keeps his eye on the ball before making one of his four interceptions on Friday against visiting Herriman, of Utah. pic.twitter.com/6HPikw0xII

— Ramon Scott (@RamonScottPoker) August 27, 2017
Scott had two picks in the first quarter and got his third takeway in the second quarter.
He also added a touchdown reception on offense and five tackles on defense.
Scott's interception return was for a 35-yard score. He later added a 1-yard reception for a score to make it 21-0 Helix in the first.
Scott became the 11th SDCIF player with 4 interceptions in a game, the record is five.
He is the first section player with four picks in one game in 22 years, and the first in East County player to do it since '83 when two players did it.
Herriman is quareterbacked by junior Blake Freeland, a BYU-commit.
"Herriman was a big physical team," Helix quarterback CARSON BAKER said. "We wanted to come in and play our game and we did that. Our O-line played great."
TERRENCE TOLBERT scored a 21-yard touchdown in the first quarter on a pass from Baker.
Scott finished with 2 catches for 16 yards.
Baker was nearly impeccable from the pocket against the visitors, going 18-for-20 for 264 yards and throwing for three touchdowns.
FATTO NOA got off to a good start for the Highlanders, as the freshman had 114 yards on 16 carries.
Senior transfer ISAAC TAYLOR-STUART had 5 catches for 79 yards and had a pass defended on an end zone try in the first quarter in his debut for the Highlanders.
He also recovered a fumble in the first quarter.
ISAIAH WOODEN had a three-yard run for a touchdown for the Highlanders.
Baker later hit MICHAEL SHAWCROFT for a 4-yard touchdown to close it out.
Baker had a 48-yard pass to Taylor-Stuart in the second quarter.
It looked like Helix could be in for a battle on the first series, as Herriman rushed Baker on three-straight attempts to open the game, recording two sacks.
just the beginning ‼️ pic.twitter.com/AwUu3Prban

— rashad scott (@rvficki) August 27, 2017