2017 EAST COUNTY FEARLESS FORECASTER – WEEK 2
Updated: September 1, 2017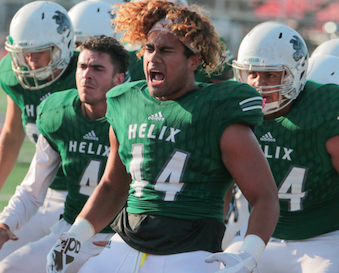 Helix senior TYREECE PATANE / Country Boi Photography
2017 EAST COUNTY PREP FOOTBALL FEARLESS FORECASTER
WEEK TWO
By David Dickens and Ramon Scott
EastCountySports.com
SAN DIEGO – The Honor Bowl this weekend at Cathedral Catholic High School is more than just a series of high-profile prep football games.
The seventh-annual event brings focus and attention to the nation's military veterans over two days, educating students, coaches and families about the needs of our heroes going forward.
The Honor Group program also has become actively involved in training and providing service dogs to veterans suffering from stress disorders.
The non-profit organization also raises money to provide job training and assistance, as well as, all-terrain wheelchairs to those who need them.
East County students from Helix Charter and Christian High will play in this year's Honor Bowl.
On Friday, students from all participating schools will visit Camp Pendelton and then listen to Marine Command, drill instructors, wounded veterans and national dignataries discuss the real triumphs and heartbreak that comes with being a member of the military.
The games themselves are surrounded with full pageantry, including performances from the USMC Marching Band and Honor Guard, and an awards presentation at the conclusion of the contest. All the Honor Bowl contests will be broadcast on the FOX Sports GO app.
Last year, Helix's TYREECE "REE REE" PATANE won the team's Honor Bowl Character Award for his display of sportsmanship in the Highlanders' 13-0 win over Clayton Valley.
"Helix football is so excited about being in The Honor Bowl again this year," said Helix coach ROBBIE OWENS. "Last year was a great experience for our program. It's something we want to continue. It feels like a bowl game to our kids."
The Highlanders may have felt the bowl game jitters last season, grinding out the punt-fest to beat the Ugly Eagles at Mission Viejo High.
Helix's RASHAD SCOTT scored the only touchdown of the contest on a long flea-flicker from CARSON BAKER.
In pitching the shutout, the Scotties' MICHAEL SHAWCROFT had a sack and a quarterback hurry.
However, it was punter KEATON CHASE that continuously put the squad from Concord back in their own territory.
The Highlanders got off to a blazing start last week against Herriman (Utah) behind four interceptions from Scott, including one return for a touchdown and a reception for a touchdown, as well.
The Scotties opponent in the Honor Bowl is Paraclete, of Lancaster, on Saturday at noon.
The matchup pits two of the top teams in the state.
Helix, which garnered all 28 first-place votes in this week's Union-Tribune poll, is generally ranked between 8th and 15th in California.
The Spirits won the state 3-AA championship game last season and are ranked as high as 15th by some, but just a top 50ish squad by others. They beat Serrano, 44-24, in their opener at home last week.
Paraclete senior quarterback Brevin White is headed for Princeton. He'll match wits with Baker, who is headed for UC Davis.
White passed for 348 yards in the opener and six touchdowns for a new school record for the transfer from Chaminade via Alemany.
It will be the ultimate test for the Ivy League-bound quarterback against Scott and five-star defensive back ISAAC-TAYLOR STUART, who had a fumble recovery and defended an end zone attempt in his Scottie debut.
The current list of major offers for Stuart-Taylor sits at 53.
"San Diego is a military town, so its just a great way for our kids to show respect and gratitude to those that have served our county," Owens said. "We want to be nationally known, so we want to get out and play strong teams while getting the opportunity to hear the experiences and sacrifices the men and women of our military make to keep our country safe."
Helix may have looked a little nervous early in the Honor Bowl experience last year, but that said experience should benefit them against this top-notch opponent… HELIX, 24-17.
All the other games this week are on Friday…
CHRISTIAN vs BORON (at Cathedral Catholic), 4:30 – The Patriots open The Honor Bowl against the visitors  making the 175-mile trip from the Mohave Desert.
Often outmanned and undersized in a matchup like this, the Boron community rallies around its winning football program.
Boron was a replacement opponent for Christian, which was announced just a little over a month ago, after 99 percent off all high school schedules had been finalized.
The Bobcats, frequently 10-game winners, lost their opener last week and were 8-4 last season, winning the Southern Section Desert Mountain championship.
They have to be bracing, however, for senior BRADLEY JEREMIAH and the Patriots.
Jeremiah directed Christian's passing game to 532 yards last week and seven touchdowns in a 60-33 win in Utah against Hurricane.
The Pats' new stars include junior ALEXANDER GONZALEZ, who caught four of the TD tosses from Jeremiah and had over 200 yards receiving, and former Little League legend ALONZO RICHARDSON, who caught eight passes last week, including two scores.
Boron would be wise to at least try its run game, as Christian allowed over 300 yards rushing last week.
Christian is certain to play its entire roster here, but may not shy away from putting up more big numbers in such a high-profile opportunity… CHRISTIAN, 56-30.
VALHALLA at GRANITE HILLS, 7 – The Norsemen fancy themselves as a rival with league foe Steele Canyon these days, while the Eagles are looking to say, 'not so fast,' following last week's flop at San Pasqual.
Hopefully, Granite was looking ahead to this one, as the Eagles seemed to look past the familiar Golden Eagles, losing 52-7 on the road.
Meanwhile, the Norsemen garnered one 10th-place vote as the only East County team other than Helix to register a point in the U-T poll after their steady win over visiting Scripps Ranch, 33-20.
TY SCHIMKE had two touchdowns in less than a minute for Valhalla, including a reception rumble from the other side of midfield to help put down the Falcons.
DENNIS DAHLIN is starting to see more snaps at quarterback, but BRYAN MADRIZ isn't necessarily headed to the sidelines, he's seeing time in the slot when not giving Dahlin a breather.
East County defensive player of the year candidate JOSHUA MCNISH-HEIDER had two sacks, four hurries and batted a pass in the opener.
The Norsemen limited the Eagles to just 7-of-20 passing last season and Granite only managed 46 passing yards against San Pasqual last week.
The Eagles had 180 yards rushing, including 86 from quarterback JAKE SIEGFRIED.
Granite Hills sophomore DB ETHEN BISHOP was busy chasing down Golden Eagles with 14 tackles, while senior LB LEO CASTRO had eight tackles, including two for loss.
"Well for starters last week our performance against San Pasqual falls on my shoulders as I just didn't have the guys ready," Granite Hills coach KELLEN COBBS said. "There's really nothing I needed to fire up this team about playing the Norsemen since this is always a huge game.
"We expect our three-year varsity starters to bounce back and be the difference makers. Defensively, we cannot give up the big play and we need to know where Dahlin is at all times and keep him contained and keep their offense constantly behind the chains."
Valhalla has won the last two, including a 37-7 romp in week two last year, and is a sure favorite against this year… VALHALLA, 28-14.
SANTANA at WEST HILLS, 7 – Few outside of North Magnolia Ave. knew what was coming after the Wolf Pack pounced on a series of early Sultan mistakes to take The Mayor's Cup back home down Mast Blvd after a 31-20 win at Community Stadium last September.
The Sultans ended up turning their entire fortunes around to complete a historic season that resulted in an appearance in the CIF Division 4 championship game.
The Pack currently owns a 20-8 all-time series mark and have one 11 of the last 13 meetings from the Sultans.
Can this West Hills offense regain its past form against the cross-town rivals after looking so pedestrian last week at home?
Wide receiver/defensive back RYAN JEWELL picked up where he left off last season for the Wolf Pack and had a touchdown and an interception against Southwest (El Centro) last week.
"Each kid has to understand and execute his assignment then trust the other 10 guys on the field to do the same," said West Hills head coach CASEY ASH, who started his coaching career at West Hills back in 2007.
On the Santana side, set aside the records for a moment, the squad has some of the biggest numbers in terms of participation for their football program as a whole out of all the Grossmont Conference teams.
Santana last week had four turnovers in their game versus Castle Park but still prevailed. 56-19.
Santana's defense, led by DALE GENSCHAW, had five sacks, and one interception from CAMERON KANE.
DEVON CHESTNUT had nine receptions, including two touchdowns, while Kane added eight receptions, as senior quarterback JOSH OEDEWALDT threw for 283 yards.
Santana junior RB IAN LITTEN had 74 yards and two touchdowns in the opener.
"This is an important game for both schools," Santana coach TIM ESTES said. "The kids have been playing with and against each other for years. This game comes with bragging rights."
West Hills ran into a buzzsaw last week against the surprising visitors from the Imperial Valley, but until the Pack can get its offense in gear… SANTANA 27-20.
MONTE VISTA at UNIVERSITY CITY, 6:30 – This likely-unheralded matchup pits two of the top teams from Division 4 as a possible late-season playoff matchup is in the offing.
Monarchs star junior RB JAHMON MCCLENDON scored all of his team's touchdown last week, including a decisive 73-yard rumbling jaunt through the Mar Vista defense.
However, it wasn't all smooth sailing after Monte Vista led the Mariners by two scores early. Mar Vista rallied to tie, as the Monarchs punted on five other second half possessions.
It will be a great matchup of backs with the Centurions' E'lonie Rico, who had 24 carries and 199 yards in the 47-12 UC win at home versus Sweetwater last week.
University City's defense is led by Casey Granfors, Tiago Quantz and Tariq Jefferson.
Centurions sophomore QB Gunnar Gray threw for 178 yards and two touchdowns in their win.
The Monarchs, meanwhile, may have touted more passing, but it wasn't prevalent. Still, four passes is one or two more than usual over the past few previous renditions of this offense.
Defensive standouts BLAKE SCHMIDT, at linebacker, and TORREY SMITH, in the secondary, lead… MONTE VISTA, 28-26.
MADISON at STEELE CANYON, 7 – The Cougars are coming off an impressive big win against a playoff team from last year in Brawley and especially notable was the fact that they did it in 105° heat.
While this week's hot weather locally has been a burden to most team's practice schedules, the likely balmy conditions Friday night will be downright pleasurable compared to last week.
It will be Steele Canyon that will need to bring the heat against powerful Madison. It will be a real test facing the No. 3  Warhawks, the defending CIF D2-AA state champions.
Steele Canyon defenders BILLY TELLOUS and ALEXANDER ATHERTON came up big against the Wildcats. Atherton sealed the win with the game-clinching interception.
DEONTAE MCKINNEY had 93 yards rushing last week for the Cougars, while THOMAS FISHBURNE worked his magic for two rushing touchdowns in the 24-20 win. RANDY JORDAN also scored a touchdown on a 10-yard run.
Madison last week had eight sacks against El Capitan in a 47-18 win.
"I see no weaknesses and they are well coached and have plenty of weapons," Steele Canyon coach SCOTT LONGERBONE said. "They are very big upfront and very fast outside.
"The key to success in this one is the hope we can create some turnovers or they make some mistakes themselves and we capitalize and we must take care of our side, with no turnovers and we can stay in this one."
Madison defeated Steele Canyon, 48-7, last season as the Cougars had just 73 yards of total offense. Returnee Chris Fatilua leads the re-tooled Warhawks' defense in 2017.
Cougars close the gap… MADISON, 24-20.
OLYMPIAN at GROSSMONT, 7 – Sophomore JAMIE ODOM will start at quarterback for the Foothillers on Friday night against visiting Olympian.
Grossmont fell at home to Bishop's, 22-13, last week, squandering chances in the red zone in the second half.
Odom was 6-for-13 for 128 yards in the first half, but Grossmont trailed 22-7 at halftime.
Grossmont senior ZACH JONES and junior DESMOND CARTER combined for seven receptions for 130 yards against the Knights.
Senior running back SHEVELL STERLING was pretty stellar in his opener with 87 yards on 18 carries and a touchdown.
Senior defenders ANDREW LIRA and DAISEAN CRAWFORD were busy against Bishop's, combined for 27 tackles, including 19 solo.
Meanwhile, "The Sand Man" JULIAN SANDERLIN put Bishop's quarterback Jeffrey Jackson to sleep twice with a pair of sacks. Grossmont had four total sacks on the evening.
Olympian had over 400 total yards last week in a 41-38 double overtime win against Santa Fe Christian in its season-opener.
Eagles senior Nico Mendoza threw for 294 yards and four touchdown passes in the win.
Olympian defenders Rock Gonzales, Jared Desmond and senior David Tirey will have their hands full when the Foothillers finally get their offense rolling… GROSSMONT, 35-21.
EL CAPITAN at MATER DEI CATHOLIC, 7 – After a moment of silence before the game to honor the life of assistant coach TONY BURNER, who passed away in June, El Capitan found the Madison Warhawks to be very stingy on defense in the opener, as QB WICK HAUSER was constantly under pressure by Madison's defensive line, which resulted in eight sacks in a 47-18 loss.
But Vaqueros senior defensive back CHASE LOVATO took the high-profile game as a chance to shine, as he had a fumble recovery and two interceptions, including one in which he returned for a touchdown.
El Capitan got a long-distance touchdown catch-and-run score from junior YAPHET YOKLEY, which went for 85 yards.
"Mater Dei is another state champion so we will need to play a flawless game to have a chance" El Capitan coach RON BURNER said. "We are young but we're definitely not that far off."
The Crusaders, which lost much of their team to graduation after last year's historic season, were soundly defeated by rapid-rising Ramona last week, 41-7, up the 67.
Look for El Cap seniors ANTONIO OLIVIERI and CHRIS MCDONOUGH to make their presence felt… EL CAPITAN, 21-15.
CHULA VISTA at MOUNT MIGUEL, 7 – Chula Vista held off the Matadors, 35-30, in the season-opener last year on the Spartans' bumpy grass field.
The Matadors will put its speed to the test on the turf at home behind senior running back SHEMAR GREENE and senior quarterback MUGABE MILLER.
Miller accounted for over 300 yards of total offense and scored three touchdowns last week as the Matadors gave themselves a chance to win against visiting Morse last Friday in a 26-19 loss.
Greene gave a work-man like performance with 104 yards on 21 carries against a pretty staunch Morse 'D'.
The Matadors also did a nice job keeping Morse's explosive players somewhat in check.
Seniors SANTINO PACHECO and JARVIS HEARD did a nice job running the Tigers down with a combined 19 tackles.
Pacheco and sophomore PATRICK CHIMA both had interceptions for the Matadors.
The Spartans sparred with Lincoln in the season opener, dropping a 54-20 decision. Chula Vista did little in the passing game against the Hornets.
Chula Vista seniors Victor Agraz and Ray Gomes figure to have their hands full finding the speedy Matadors.
This game is close on paper… MOUNT MIGUEL, 34-26.
EL CAJON VALLEY at KEARNY, 6:30 – The Braves looked like a team in control against Serra in the first half last week, leading 16-6 at halftime, but the Conquistadors won 40-16.
The Braves' fortunes seemed to change after the loss of junior wide receiver/strong safety BRANDON ROBINSON left the game with an injury.
"Last week we were in position to make plays but didn't do a great job of tackling," El Cajon Valley coach PARRIS PISIONA said. "We played a team with great speed and we have to do a better job in the open space.
"We spent a good part of this week tackling and conditioning in the heat. We were a good two-quarter football team last week, but as the head coach, I have to do a better job of making us a good four-quarter football team."
The Komets had 494 yards on the ground last week against Hilltop, led by Brenton Bell's 209. Quarterback Kenyon Williams threw for 162 yards and two touchdowns.
"We need a big game from our offensive line and control the line of scrimmage and keep their offense off the field," Pisiona said. "We expect a big game from MOSE KALEUATI, MASON TILEIA, ANGEL SHIPLEY and ANDRE ROBLES. If they hold up their end we should be able to pull this one out."
El Cajon Valley beat Kearny last year in the season opener in El Cajon, so revenge is in the air… KEARNY 22-15.
MOUNTAIN EMPIRE at SAN YSIDRO, 7 – Mountain Empire coach BERNARD VANN wanted to play a more competitive schedule and San Ysidro was one of the teams that he wanted to travel to and compete against the show everyone that they can win a league title and contend in Division 5.
The experienced Red Hawks come off a red heart victory over Temecula Prep, 48-0, which has already propelled into the likely playoff picture if they're progress continues so rapidly.
Captain BLAKE JARRELL, the Hawks' middle linebacker and running back, had 12 tackles to start off the season, while DALLAS PRINCE is a big factor on the ground game, too.
Quarterback GABRIEL HYDORN, a junior, has a top target in 6-foot-2 senior captain WYATT MANN, who has recovered from a broken ankle suffered last season.
An emerging force in the interior is 6-foot-5, 220-pound junior DAMIAN GARCIA. Junior CAMERON WILL added an intersection in the win.
The Cougars possess a great running game and a tough secondary led by Jazz Gill, Jeremiah Martinez and Alejandro Bonneau.
San Ysidro is a young team coming off a Metro-Pacific League championship last year and has 11 overall returning starters, with six on the offense and five on the defense.
Friends Vann and Cougars ' coach Bobby Hatchett both served in the military together so they should have plenty to talk about following the game.
Last week, San Ysidro had a big 41-14 win over Coronado, now led by former Christian High assistant Curt Hines.
The Cougars have a huge line in Chris Lira, Josue Gonzalez, Jordan Hallmon and Greg Molina.
"They run the ball very well so we definitely need to work on our run defense in this one," Mountain Empire assistant coach DON ROLLINS said. "We expect it to be a very physical ground attack on both sides and whoever turns the ball over or does not is going to be the winner."
Look for a defensive battle and whoever wins the turnover battle should win this one… MOUNTAIN EMPIRE, 24-21.
Last week: 11-3