Hillers find footing familiar against Olympian
Updated: September 1, 2017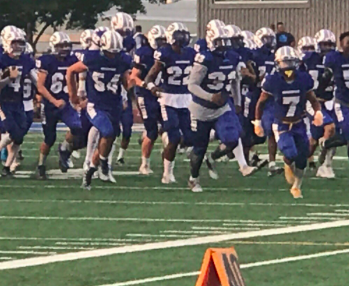 Grossmont runs out Friday night before the matchup with Olympian.
2017 EAST COUNTY PREP FOOTBALL
GROSSMONT 37, OLYMPIAN 21
By Ramon Scott
EastCountySports.com
EL CAJON – Grossmont High sophomore quarterback JAMIE ODOM threw for 318 yards and three touchdowns and ran for another score, as the Foothillers defeated visiting Olympian, 37-21, Friday night.
Odom was in a quarterback battle during camp and in the team's season-opening loss to a hot Bishop's squad, but earned the start Friday, although wasn't necessarily penciled in to play the entire game.
That was until the Foothillers scored 24 points in the first half.
Senior SHEVELL STERLING, JR., scored on a 2-yard touchdown run to open the scoring, giving the Hillers a 7-0 lead.
After the Olympians tied the game,  Odom hit DESMOND CARTER for a 31-yard touchdown strike, wowing the crowd and giving Grossmont  14-7 lead. Carter got the pass, then headed to the sideline.
The Foothillers extended the lead to 21-7 on a 2-yard run from quarterback Odom.
Grossmont took a 24-7 lead on a field goal from AMBER HUFF.
Olympian got back within a field goal by scoring consecutive touchdowns, cutting the Grossmont lead to 24-21.
Then later the third, Sterling, Jr., scored on a 52-yard screen pass play from Odom, making it 31-21, as he left the Olympian players behind him. He added another 100-plus yard rushing effort to his career total, as well, finishing with 112 yards.
Grossmont put the finishing touches on the victory with a 77-yard connection from Odom to THOMAS MANGUM, as the quarterback perfectly placed a lofted aerial.
JOSH MOALA had a 40-yard reception from Odom to inside the 5.
Carter finished with a team-high six receptions for 92 yards, while Moala finished with four receptions for 64 yards.
DAISEAN CRAWFORD led the defensive effort with 15 tackles, including 11 solo. He also forced a fumble and had a sack.
ANDREW LIRA recorded an interception for the Hillers and had nine solo stops.
JULIAN SANDERLIN had another pair of sacks this week, giving him four on the season. Teammate JOE TOLEDO also joined the sack parade with two sacks of the Eagles' QB.
It was the second-straight season that the Foothillers handled the Eagles at home. Grossmont won last year, 49-13.