Cougars can't move champ Madison
Updated: September 1, 2017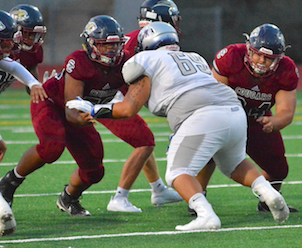 Steele Canyon squares off with Madison Friday night in Spring Valley
2017 EAST COUNTY PREP FOOTBALL
MADISON 41, STEELE CANYON 10
SPRING VALLEY – The defending CIF state Division 2-AA Bowl Game champs, the Madison Warhawks, came to Steele Canyon High Friday night and showed why they are still one of the top teams in San Diego County.
Madison rushed for 373 yards to thoroughly handle the host Cougars, 41-10.
Quarterback THOMAS FISHBURNE threw a 10-yard touchdown pass to RANDY JORDAN to get the Cougars back into the game in the second quarter, cutting a 14-0 lead in half.
But the Warhawks were just too much in the trenches, not to mention their outstanding linebacking corps.
Fishburne, a senior, rushed for 61 yards on the night. He also kicked a 26-yard field goal in the second quarter, but the Warhawks led 31-10 at halftime.
ROBERT WHITEHEAD, a senior, had an interception and short return in the first quarter.
"Robert Whitehead is a heck of a football player," Steele Canyon head coach SCOTT LONGERBONE said. "He played three positions had a pick and a fumble recovery.
"Madison is just a really good team."
Madison junior running back Kenan Christon had 224 yards and three touchdowns.
Christon had a 12-yard touchdown run in the second quarter and a 59-yard TD jaunt in the third.
Madison recorded 10 tackles for loss against the Cougars. The Warhawks intercepted a Fishburne aerial in the second quarter.
Steele Canyon's ALEXANDER ATHERTON lost a tug-o-war on a touchdown pass to Madison's Daniel Stokes in the first quarter, as the Warhawk receiver wrestled the ball away from the junior defender in the right front side of the end zone.
Seniors ANTHONY GUY and MIKEL OLIVER teamed for an 8-yard sack in the first for the Cougars.
JORDAN ANDERSON had three receptions for the Cougars.