Long day, Cougars wear on Red Hawks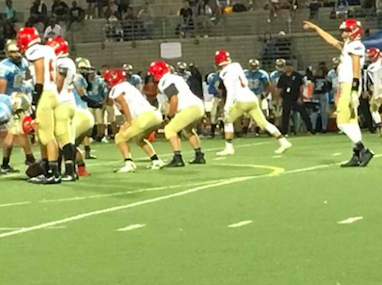 Gabriel Hydorn directs a play Friday night at San Ysidro.
2017 EAST COUNTY PREP FOOTBALL
SAN YSIDRO COUGARS 28, MOUNTAIN EMPIRE RED HAWKS 21
EastCountySports.com staff report
SAN YSIDRO – Spoiled with a three-touchdown lead at halftime, the travel-weary Mountain Empire Red Hawks gave it all back and then some to the host San Ysidro Cougars in a 28-21 loss here Friday night.
Near the end of the first quarter, Mountain Empire QB GABRIEL HYDORN completed a pass to DALLAS PRINCE for a touchdown.
In the second quarter, Hydorn threw a 50-yard TD bomb to WYATT MANN for a two-score lead.
Right before the end of the half, Hydorn found SAWYER ERNSBARGER for a third score, giving the Red Hawks a three-score cushion at intermission.
The Cougars scored a touchdown in the third quarter, then another in the fourth. Then minutes later, tied to the game.
With just over one minute left in the game, the Cougars capped the come-from-behind win with another touchdown pass.
"We're going to soak all of this in and get ready for Crawford," Mountain Empire assistant coach DON ROLLINS said. "
As I told you, whoever wins the turnover battle is going to win this game and they certainly won the turnover battle therefore we lost
"We are looking forward to having two home games now."
"We had too many slippery tackles in the second half," Rollins said. "Running backs were getting through four and five guys that were trying to gang tackle."
Hydorn was 16 of 31 for 235 yards and three touchdowns, but two picks, both coming in the second half. He rushed six times for 40 yards.
The Red Hawks also turned the ball over on a fumble in the fourth quarter.
Mann had six receptions for 94 yards and a touchdown, while Prince had seven receptions for 92 yards and a touchdown.
Ernsberger had three receptions for 24 yards and a touchdown.
BLAKE JARRELL had 13 tackles on defense and rushed 13 times for 49 yards, while CAMERON WILL had 16 tackles for the Red Hawks
ESTABAN CASTILLO had 10 tackles for Mountain Empire, while Prince had eight tackles.
Prince caught a long pass from Hydorn in the first half.
Aguilar also kicked three PAT's.
Mountain Empire junior AARON PETERSON definitely suffered a knee injury, according to Rollins.
"Our defense didn't play like we have normally in the last few games of last season and in the first game of the season," Rollins said. "There are 28 unanswered points there and in the fourth quarter we really weren't tackling anybody after we owned the first half."