Vaqueros valiant in close loss to Crusaders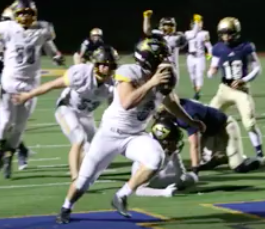 El Capitan's Chris McDonough picks up a loose ball for a touchdown Friday night. / Billy Ortiz photo
2017 EAST COUNTY PREP FOOTBALL
MATER DEI CATHOLIC 28, EL CAPITAN 26
EastCountySports.com staff report
CHULA VISTA – El Capitan took an early two touchdown lead against Mater Dei Catholic, but the hosts rallied for a 28-26 win Friday night, giving the Vaqueros their second straight loss to open the season.
CONNOR ROOSA scored on a 12-yard run to make it 7-0 early.
WICK HAUSER threw to CHANCE LOVATO for a 7-yard score and the Vaqueros were looking at an early lead on the road.
Mater Dei, however, answered with a pair of scores to tie the game.
After El Capitan turned the ball over on a kick off, Mater Dei quickly capitalized with another score.
In the 2nd Quarter with 4 minutes to go, Mater Dei Catholic booted a field Goal that closed the gap to El Capitan 14, Mater Dei Catholic 3.
Mater Dei Catholic closed to 14-10 moments later on a touchdown pass.
El Capitan got inside the 20 in the final two minutes of the first half and booted a field goal to lead 17-10.
Mater Dei Catholic, however, would manage a field goal on a two-minute drill drive in the last :30 of the first half, sending the game into intermission, 17-13.
Mater Dei took the lead on a pass completion with eight minutes to go in the third quarter.
After the Crusaders missed the PAT, the score remained 19-17.
Just two minutes later, the Crusaders scored on a touchdown pass to go ahead 26-17.
El Capitan got a big kickoff return to its own 40-yard line, but ended up punting it back to the Crusaders with six minutes to go in the third.
El Capitan's CHRIS MCDONOUGH scored a defensive touchdown with five minutes to go in the third quarter, making it 26-24 when Mater Dei had an errant snap. The ball bounded around the goal line when McDonough found it right in the end zone.
Early in the fourth, El Capitan took over at its own 15 and then completed a pass out to the 40. However, the drive stalled and the Vaqueros turned it over on downs.
Mater Dei was able to control the clock for most of the fourth and thwarted an unsuccessful last-ditch drive by El Cap.
Seniors ISAIAS MANCILLA and RONNY MILLER sacks for El Capitan.
Roosa had a catch-and-run through traffic for a big gain that set up the field goal.